Welcome to peterboyd.com
Peter D. A. Boyd
The Darwin Family and their Plants at The Mount in Shrewsbury
Peter D. A. Boyd
Web version of
BOYD, P.D.A. 2006. 'The Darwin Family and their Plants at The Mount in Shrewsbury'. NCCPG Shropshire Group Newsletter Autumn 2006. [with some extra images and captions that were not included in the original publication]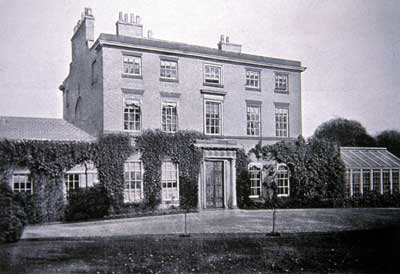 The Mount c.1860 showing the greenhouse off the Morning Room
Charles Darwin was born in Shrewsbury on 12th February 1809. His birthplace was a house called 'The Mount' that was built by his father, Dr Robert Darwin, in an elevated position overlooking the town. Charles spent his childhood in Shrewsbury but left it to attend university from 1825-1831 and for his voyage on 'The Beagle' 1831-1836. However, Shrewsbury remained his home and it was Shrewsbury and his family to which he returned between terms from university and after his great voyage. Although he spent most of the rest of his life living in London and Kent, he continued to visit Shrewsbury until his father's death in 1848 and, much later, on a memorable occasion in 1869 - three years after the death of his sister Susan in 1866 and the subsequent sale of The Mount.
The house and garden were sold at auction in 1867. The sale particulars and a plan of the property have survived. They give a good idea of the features that the garden contained by 1866:
Lot 1 MANSION HOUSE, called "THE MOUNT", Shrewsbury, containing Dining Room, Drawing Room, Morning Room opening into Conservatory, Library, Fourteen Bedrooms with suitable Dressing Rooms, Kitchens and all usual offices, ample Cellaring, very extensive Stabling, Coach Houses, &c., Conservatories, Fernery, Forcing Frames, extensive walled Garden, Pleasure Grounds, and adjoining piece of Land, the whole containing 37,752 square yards, or 7a. 3r. 8p., and standing in an elevated position on the Banks of the River Severn, commanding extensive and beautiful scenery, and fit for the immediate reception of any family, and lately occupied by Miss Darwin.

Lot 2 GARDENER'S HOUSE with Garden attached, Coach-house, Stable, &c., comprising 320 square yards, in the immediate vicinity of Lot 1.
The plan which accompanied the particulars shows four or five glasshouses: a 'conservatory' leading off the house, a 'plant stove' (presumably for tropical plants), 'vineries' and, in the walled kitchen garden, a 'greenhouse'. The kitchen garden also had a 'tool house' and 'shed'. There was a concentric circular parterre with an adjacent summerhouse and another summerhouse closer to the house. There was an Ice House on the slope facing the River Severn. It should be remembered that the Mount was not just a house and garden but was also the 'Home Farm' for the far more extensive Darwin properties.
The Mount was purchased in 1867 by a Mr Lowe who lived in an adjacent property but he did not move into The Mount and leased it to a tenant. The property passed through various hands over the next fifty years or so but the design of the garden remained similar. However, in the 1920s, the garden was virtually cut in half and the small housing estate 'Darwin Gardens' was built on the walled kitchen garden and pleasure grounds. Some features of the original garden (e.g. walls, potting shed, ice house) survive in the gardens of these houses (see Boyd 1999, 2000 and 2003).
Part of the plan of the garden at The Mount in 1866
[The housing estate 'Darwin Gardens' was built on the whole of the garden left of the 'Plant Stove' - the T-shaped building left of The Mount - destroying the kitchen garden and parterre. The garden of No 9 Darwin Gardens, the first house built, occupied the whole width of the original garden with the house itself being built on the site of the Vineries]
The Mount itself, with its surviving garden, is currently occupied by The Local Valuation Office (Inland Revenue). It is not open to the public but arrangements can sometimes be made for small parties to visit limited parts of the property. At the time of writing in October 2006, Shrewsbury & Atcham Borough Council and the Charles Darwin Birthplace Society are negotiating with the Office of the Deputy Prime Minister to purchase the property so that at least part of the property can be made accessible to the public in time for the Bicentenary of Charles Darwin's birth in 1809 and the 150th anniversary of the publication of On the Origin of Species in 1859.
Charles wrote several books and scientific publications about wild and cultivated plants including The various contrivances by which orchids are fertilised by insects (1862), The movements and habits of Climbing Plants (1865), The variation of animals and plants under domestication (1868), Insectivorous plants (1875), The Effects of Cross- and Self- Fertilisation in the Vegetable Kingdom (1876), The different forms of flowers on plants of the same species (1877) and The power of movement in plants (1880). The dates refer to the year of first publication. Many of these books went to many editions and, like his publications on zoology and geology, are still in print.
Charles Darwin is buried in Westminster Abbey but there is a charming memorial to him in the Unitarian Church on High Street, Shrewsbury. This was the church that Charles and his mother Susannah attended when he was a child. The memorial includes a representation in stone of various items of natural history which Charles Darwin studied including a Slipper Orchid, Ivy, a fern, a daisy or primrose, a beetle, a butterfly, a moth, a worm and fossil shell - all against a background of rock strata.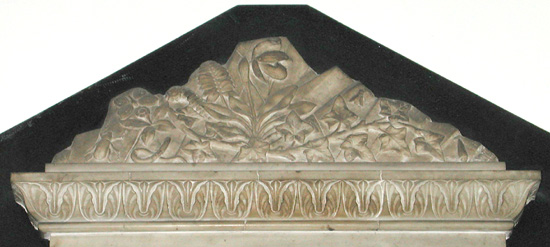 Detail from the Charles Darwin Memorial in the Unitarian Church, High Street, Shrewsbury (photo: Peter Boyd)
Charles Darwin is best known for his On the Origin of Species published in 1859. In the final paragraph of that book he wrote:-
It is interesting to contemplate an entangled bank, clothed with many plants of many kinds, with birds singing in the bushes, with various insects flitting about, and with worms crawling through the damp earth, and to reflect that these elaborately constructed forms, so different from each other, and dependent upon each other in so complex a manner, have all been produced by laws acting around us.
His fascination with plants, insects and other animals was fostered through his upbringing in Shrewsbury. Charles Darwin said of himself that he 'was born a naturalist' and an interest in the natural world was certainly 'in his blood'.
His father was a doctor but with a keen interest in plants and gardening which he passed on to his children - including Charles. His grandfather was Erasmus Darwin who wrote about 'evolution' (long before Charles described the mechanism of evolution) and his great grandfather, another Robert Darwin, described a fossil reptile in a scientific paper. The love of plants and gardening was also apparent on his mother's side of the family - the Wedgwoods of Staffordshire. In 1804, John Wedgwood (one of his uncles) was a founder of the Horticultural Society of London (which later became the Royal Horticultural Society).
The Darwin family had moved into 'The Mount' in about 1800. Dr Robert Darwin had built the house on high ground at Frankwell, overlooking the River Severn and Shrewsbury. The Mount was described as a large, plain, square, red-brick house, 'of which the most attractive feature [was] the pretty green-house, opening out of the morning room'. Dr Darwin loved his garden, planting it with a wide variety of trees, shrubs and other plants. He and other members of the family maintained a perennial garden diary of which only that part which covers the period 1838-1866 has survived.
This surviving part of the garden diary is currently owned by Susan Campbell, a garden history writer, who lives in London and plans to publish a book based on its contents. She has given talks in Shrewsbury about the diary and I have been able to examine it but much of the information that the diary contains is being kept secret until her book has been published.
Robert Darwin, assisted by members of his family, recorded details of flowerings and fruiting in the kitchen garden, pleasure gardens and glasshouses of The Mount in the diary. After Robert died in 1848, one of his daughters, Susan, continued the diary until her own death in 1866.
Dr Robert Darwin (1766-1848) and his wife Susannah (1765-1817) had 6 children:-
Marianne (1798–1858), Caroline (1800–1888), Susan (1803– 1866), Erasmus (1804– 1881), Charles (1809– 1882) and Catherine (1810– 1866).
The earliest portrait of Charles with his younger sister Catherine, painted in 1816 when he was about 7 years old, shows him holding what seems to be a potted Lachenalia (a South African bulbous plant with yellow flowers). One wonders whether this plant could have been grown by the young Charles as he was apparently encouraged to grow plants and it seems that he may have had his own bit of garden at the Mount.
Charles's sisters had a great influence on his upbringing (as his mother died when he was eight years old) and they were important correspondents, keeping him in touch with news of Shrewsbury when he was away from it. Their published correspondence includes many references to the garden at the Mount.
In a letter written to Charles by his elder sister Caroline on the 22nd March 1826 (when he was at university), she wrote:
"It made me feel quite melancholy the other day looking at your old garden, & the flowers, just coming up which you used to be so happy watching. I think the time when you & Catherine were little children & I was always with you or thinking about you was the happiest part of my life & I dare say will always be".
In an earlier letter, written on 26th February 1826, Caroline had written:
"We have been very busy in the flower garden, planting sweet peas &c. I flatter myself it will look much gayer this year than it did last – that I know you will think it may easily do, I have remembered your admiration of the Holyhocks at Maer & and have been buying some, so that at least we will not be outdone in that flower". [N.B. Maer was the home of his uncle Josiah Wedgwood and cousins].
Charles had to help with watering plants in the garden when he was home at The Mount and, in the same letter, Caroline tells him that:
"We are going to have pipes laid to have a supply of water in the flower garden, so next summer your goodnature will not be so often taxed with "Charles it is very hot." ("Very hot indeed" you unthinkingly answer.) "Dear Bobby, the ground is so dry that the pans of water you brought half an hour ago did hardly any good, would you bring one more?" [N.B. 'Bobby' was one of Charles's nicknames – obviously used when his affectionate sister wanted him to do something!]
1826 seems to have been a busy year in the garden because, in a letter from Catherine and Caroline dated 11th April 1826, they re-iterate:
"We have all been taking to gardening very vigorously, and shall expect some very elegant compliments from you on its beauty; and I assure you it is very gay, and much admired".
We also get clues to Robert Darwin's enthusiasm for his garden from this correspondence. In the letter of the 26th February 1826, Caroline told Charles that :-
"Papa pays frequent visits to the garden to see a Leucojum vernum which is now in blow & rather a rare plant".
The conservatory that opened off the Morning Room seems to be referred to as 'the Greenhouse' in correspondence of the time. This may have been built at the same time as the house. A separate 'Hothouse' was built in late 1831 or early 1832 near the conservatory and is labelled as 'Plant Stove' on the plan of 1866. The hothouse was a favourite of Robert Darwin.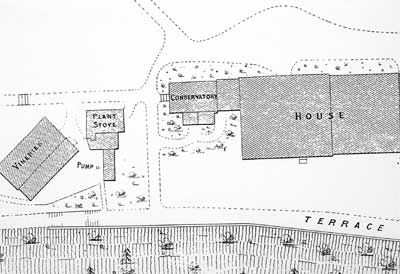 Detail of the 1866 plan showing the Vineries, Plant Stove ('the Hothouse') and Conservatory ('the Greenhouse off the Morning Room').
The Hothouse is first mentioned in a letter to Charles from Caroline dated 20th December 1831 (written just after Charles had sailed from Plymouth on 'The Beagle' but forced to turn back temporarily because of a storm):-
"Papa is very well & I think every day gets more interest in the Hothouse which he is constantly going to see & I expect he will find it a very nice amusement and little occupation".
In a letter written in January of 1832, Catherine wrote:-
"Papa is quite well, and very fond of his Hothouse, which is finished, & very perfect, and some plants in it".
Susan also wrote about it to Charles in February 1832:
"Our Hot house is quite finished & we have got several Pines & plants in it. Papa sits there a great deal & it answers very well as a hobby for him. We have had pipes laid down in the Greenhouse & the regular warmth of the hot water makes the morning room very comfortable as it was apt to get very cold at night". [N.B. 'Pines' are Pineapple plants]
The wording at first makes one uncertain whether Susan is talking about the Hothouse and Greenhouse as one and the same - or two separate buildings. However, in a letter from Caroline to Charles dated 12 March 1832 it becomes clear:-
"My Father is very well & takes great pleasure in the Hot house which answers very well & the green house is filled with pretty gay flowers from it".
A couple of months later, in May 1832, Charles wrote to Catherine from Rio de Janiero in South America:-
"I am very glad to hear the hot-house is going on well; how when I return I shall enjoy seeing some of my old friends again. – Do get a Banana plant, they are easily reared & the foliage is wonderfully beautiful". [N.B. The 'old friends' to which he referred seem to be plant friends!]
By June 1832, Caroline was a bit apprehensive about telling Charles about the garden:-
"We have done nothing but garden & I think to write about our flowers would hardly do now that you are seeing tropical vegetation".
However, in August 1832, Susan was able to write:-
"The Hot house is a great pleasure & before yr [last] letter came he [Dr Darwin] had sent for a Banana – we eat our first Pine from the Hothouse on Monday last Uncle John being with us who pronounced it very good. Joseph's head is quite turned by this first production". [Presumably, Joseph was the gardener at that time].
Robert Darwin had started to wind down his practice as he was finding it increasingly difficult to get about. However, by September 1832, Caroline was able to tell Charles that:
"He is in very good spirits & amuses himself very well with the hothouse - it has quite revived his old interest about flowers. He is going to get a Banana tree principally from your advice."
By October 1832, Catherine wrote:-
"Papa is very well now, much better than he was in the Summer, and more occupied than ever with his pet, the Hot house; his Banana Tree is sent for, and a deep hole made for it in the highest part of the Hot house, that it may have room. Papa means to call it the Don Carlos tree, in compliment to you". ['Carlos' being the Spanish for 'Charles'].
However, Susan wrote to Charles in November 1832 saying:-
"The two great Palm Trees are arrived & touch the top of the Hothouse now so I don't see how they ever can flourish".
Susan presumably meant the Banana trees when she referred to 'Palm Trees' because Robert Darwin wrote to his son Charles in March 1833 telling him:-
"In consequence of the recommendation in your first letter I got a Banana tree, it flourishes so as to promise to fill the hothouse. I sit under it, and think of you in similar shade".
Caroline was more confident of making comparisons of the Mount with what Charles was seeing on his travels when she wrote in May 1833:
"The orchard is looking beautiful in full blow. I guess that you see no such pretty sights in Patagonia".
A few months later, in September 1833, Charles was apparently missing the garden at the Mount when he wrote to Caroline from Buenos Ayres:-
"It is now Spring of the year, & every thing is budding & fresh: but how great a difference between this & the beautiful scenes of England. – I often think of the Garden at home as a Paradise; on a fine summers evening, when the birds are singing how I should enjoy to appear, like a Ghost among you, whilst working with the flowers".
Over a year later, in a letter dated 30th December 1834, Caroline was writing about Dr Darwin and his hothouse and Banana again:-
"I think when you come home you will be amused to see in the hothouse, his Banana, with its two leaves that we all admire & think so handsome. I can't say I do admire it now, for it is grown so tall that the glass prevents even the few leaves it has from appearing in their natural shape".
I have not found any further reference to the Banana but it may be referred to in the garden diary!
However, by September 1834 Caroline was telling Charles that the greenhouse off the Morning Room had become dangerous:-
"We have had workmen without end this summer about the House new slating &c, & latterly pulling down & rebuilding the green house on rather a larger scale than before – the wood was so bad that it was not supposed safe – so that we might have had a grand clash of glass some day".
The greenhouse shown in the earliest photograph of The Mount (possibly about 1860), is probably this one built in 1834 and the idea that this greenhouse survived for the next thirty years or so is supported by an account of a visit by Charles Darwin to the Mount in 1869.
In 1888, Francis Darwin recounted what his sister had told him about this visit to The Mount in 1869 when she had accompanied her father, Charles Darwin. It left in her mind a strong impression of his love for his old home. The then tenant of the Mount had showed them over the house and with mistaken hospitality remained with the party during the whole visit. As they were leaving, Charles Darwin said, with a pathetic look of regret,
"If I could have been left alone in that green-house for five minutes, I know I should have been able to see my father in his wheel-chair as vividly as if he had been there before me."
This greenhouse has been replaced at least twice since that time and its site 'off the Morning Room' is now occupied by a brick built extension that may have been built as a Billiard Room in the early 20th century.
After the death of Susan Darwin in 1866, a 6-day dispersal sale of the contents of The Mount and garden followed before the house itself was sold. The catalogue was 65 pages long. The sale included various items in the garden including plants in pots:-
Nine large Orange trees

Quantity of Azaleas

Quantity of Camellias

Quantity of Roses

Quantity of Ferns and other stove plants

Quantity of Chrysanthemums

Quantity of Primulas

Quantity of Cinerarias

Quantity of Fuchsias

Quantity of Lilium Lancifolium

Twelve Gloxinias

Two large Rhododendrons

Quantity of various green house plants
Over 50 other lots for sale from the garden included seakale pots, forcing frames and flower trainers as well as equipment such as spades, rakes, scythes and garden rollers.
Although the potted plants were sold and so much of the garden was built on in the 1920s and 1930s, there are significant survivors, in elements of the hard landscaping, boundary walls (particularly the original wall of the kitchen garden alongside Hermitage Walk) and living trees and other plants.
Some of the trees, shrubs and other plants growing at the Mount were probably planted in Darwin times. It is difficult to be certain about some until the detailed contents of the garden diaries become available and comparisons between then and now may be made.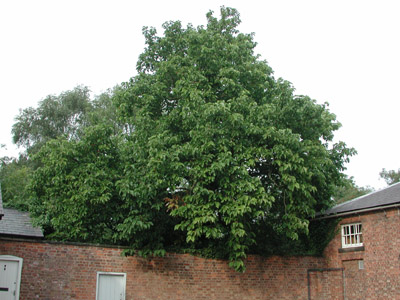 Cucumber Tree Magnolia acuminata at The Mount (photo: Peter Boyd)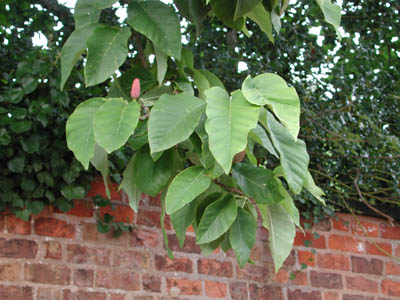 Leaves and fruit of Cucumber Tree Magnolia acuminata at The Mount (photo: Peter Boyd)
However, there is a large specimen of Magnolia acuminata adjacent to the house, a Black Mulberry (Morus nigra) on the lawn and various Oaks including an Evergreen Oak (Quercus ilex) - cut but re-sprouted and a number of Yews (Taxus baccata) that are thought to be original Darwin plantings.
The yews seem to include a greater range of variation in habit than one might expect in a normal garden. They and the other trees probably planted in the Darwins' time probably include plants provided by John Dovaston, Nurseryman of West Felton, north of Shrewsbury. He provided many exotic trees to West Midlands gardens in the late 18th and early 19th century. I believe that he was a personal friend of Robert Darwin. His son, also a John Dovaston, was a friend of Charles. John Dovaston Senior was responsible for the discovery of a 'weeping' form of Taxus baccata in about 1790 that became known as 'Dovaston's Yew'. Some of the yews at the Mount show the pendulous branchlets of 'Dovaston's Yew' but may be seedlings rather than the true form. However, the variety of forms of yew in the garden suggests that they may have been planted to show variation in the species.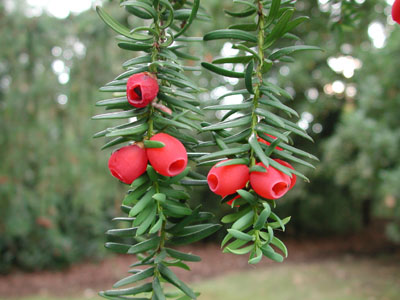 Detail from pendulous branchlets of Taxus baccata 'Dovastonii' type of Common Yew at The Mount
Such unusual variation is also shown in another species. In one small part of the garden, there is an assemblage of Primroses (Primula vulgaris) which show a remarkable range of variation for a 'natural' population. The flowers show more variation in the colour of the flowers and differences in the shape of petals than one would expect in such a small assemblage. Such colour variants (white and 'dirty pink' as well as yellow) and plants showing petal shape variation are found occasionally as individuals in large wild populations but not all together in a small area. It is possible that Charles or another member of the Darwin Family collected variants in the wild and planted them in the garden and the present population are descendants of those plants.
There are also plantings of various Rhododendon cultivars in front of and behind the house that may include early Hardy Hybrids as well as possible early imports of Rhododendron ponticum. People are too 'paranoid' about R. ponticum nowadays and too quick to destroy it in old gardens. I hope that it will be possible to have the Rhododenrons examined by a specialist as the old Hardy Hybrids are often grubbed out because they are not recognised for what they are and the R. ponticum itself may come from early introductions.
One piece of correspondence may refer to these Rhododendrons. In May 1837, when Charles Darwin was living in London, he wrote to Caroline at the Mount saying:-
"Catherine tells me to say that the Rhododendrons went by Jelby's Van for Shrewsbury" [Note - a horse-drawn van!]
Unfortunately, the letter does not say what sort of Rhododendons.
One possible occupant of the hothouse or other greenhouses may also have survived outside in the garden until quite recently. There was a luxuriant sward of the tender Selaginella kraussiana (a South African Clubmoss) growing in the lawn at the rear of the house until a gravel footpath was laid down a few years ago. The change in drainage has led to the decline of this plant each year and none could be found in this very dry summer of 2006 but it may survive as megaspores and re-occur in future.
I hope that it will be possible for The Mount to be secured and I believe that the garden is a significant part of the Darwin story. It is essential that the surviving trees and plants are safeguarded.
References
Boyd, P.D.A. 2003. 'Shrewsbury, Shropshire: Birthplace of Charles Darwin and Darwin Country'. In Special Publication of Darwin Day Program 'The Single Best Idea Ever' edited by Amanda Chesworth et al. Tangled Bank Press, 35-43. Available at http://www.peterboyd.com/darwinshrews.htm
Boyd, P.D.A. 2000. Darwin Garden Project - Sale of The Mount in 1866. Shropshire Parks and Gardens Trust Newsletter [Available at http://www.peterboyd.com/darwingard2.htm].
Boyd, P.D.A. 1999. Darwin Garden Project. Shropshire Parks and Gardens Trust Newsletter [Available at http://www.peterboyd.com/darwingard1.htm]
Correspondence of Charles Darwin Vol. 1 1821-1836. Cambridge University Press.
Correspondence of Charles Darwin Vol. 2 1837-1843. Cambridge University Press.
Darwin, F. 1888. Life and letters of Charles Darwin. John Murray.
Darwin Country website at http://www.darwincountry.org (Shrewsbury Museums Service).
In particular, see more details of the 1866 plan of the garden at The Mount at http://www.darwincountry.org/explore/002771.html .
Peter D. A. Boyd
Collections Manager,
Shrewsbury Museums Service,
Barker Street,
Shrewsbury
Shropshire
SY1 1QH
Tel. 01743 361196
e-mail: peterboyd@shrewsbury.gov.uk
For other articles written by Peter Boyd about Darwin see Charles Darwin and Darwin Country .
For other articles written by Peter Boyd about Plants and Garden History see Botany, Plants and Garden History
National Council for the Conservation of Plants and Gardens (Shropshire Group)
---
Peter D. A. Boyd.
Copyright © 2006 Peter D. A. Boyd. All rights reserved.
Revised: November 10th, 2006