Welcome to peterboyd.com
Peter D. A. Boyd
Home Page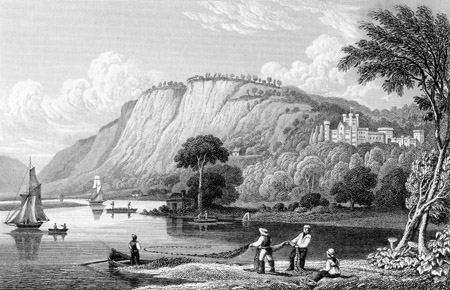 Kinnoull Hill and the River Tay, near Perth, Scotland c. 1830 - where the wild Rosa spinosissima was collected by Robert Brown that gave rise to double-flowered, coloured Scots Roses c. 1790-1800 and near which generations of Peter Boyd's ancestors were born, lived and worked (some as salmon fishers)
This site is intended to provide access to web versions of popular articles and academic papers written by Peter Boyd over a number of years.
The subjects have included Charles Darwin, GIS (Geographical Information Systems), museums, Pteridomania (the Victorian Fern Craze), Scots Roses, lifelong-learning, heritage websites, garden history, geology, micropalaeontology, palaeoecology, environmental archaeology, ceramics, Victorian decorative arts and local history.
The places have included Shrewsbury, Shropshire, Devon, the Inner Hebrides, Essex, the City of London and rose gardens in France, Germany, Denmark, Slovenia, Sweden, Canada, California, Japan, Australia and New Zealand.
Colour versions of the original illustrations and, in some cases, additional ones may be added to complement the published version. Some items may be 'published' here for the first time.
However, the main idea is to provide web versions of items that have already been through some form of 'peer review' through traditional publication. You may therefore have some confidence in the reliability of the information provided.
The website includes lengthy academic papers and quite short contributions to newsletters or similar almost ephemeral publications.
Peter Boyd was formerly Curator (Shrewsbury Museums) - retiring on 3rd May 2011. He was Curator/Museums Collections Manager for Shrewsbury Museums for nearly 17 years. The creation and development of the Darwin Country lifelong learning website and an online collections management system, ShrewD Online were major features of his work and he was involved with the planning of a new county museum that was ultimately opened in the Music Hall complex in Shrewsbury in 2014.
Research, writing, lecturing and the conservation of old garden plant cultivars have been important parts of Peter's life for many years, outside his employment in museums. Retirement from his museum career allowed him to devote more time to these activities.
He has written a number of articles about Charles Darwin and the Darwin Family in Shrewsbury - where Charles was born and educated. He has lectured in Britain, California, Germany and Slovenia about Charles Darwin (including a Darwin Day lecture at Stanford University in February 2008, a Darwin conference at the University of Giessen, Germany in September 2009 and a Biodiversity Conference in Ljubljana, Slovenia in October 2009).
Peter Boyd has also been writing a book on Scots Roses (cultivars and hybrids of Rosa spinosissima) which were first developed in Scotland in the late 18th century. They were most popular between about 1820 and 1835 when hundreds of varieties were available. His own collection of Scots Roses has been awarded National Collection status by Plant Heritage (formerly the National Council for the Conservation of Plants and Gardens [NCCPG]). He has advised on the naming of Scots Roses and other Pimpinellifolias at the Europa-Rosarium at Sangerhausen in Germany (the largest collection of rose species and hybrids in the World) and at the Roseraie du Val-de-Marne at l'Ha˙ les Roses near Paris in France (the oldest surviving specialist rose garden).
He has written articles on Scots Roses, Rosa spinosissima and other Pimpinellifolias that have been published in Britain, France, Germany, Belgium, the Netherlands, Finland, Canada, the USA, Australia, New Zealand and Japan (see Scots Roses and other Pimpinellifolias). He has lectured in Britain, France, Denmark, Germany, Slovenia, Canada, California, Japan, Australia and New Zealand about Scots Roses and Rosa spinosissima.
His book on Scots Roses is expected to be published by the Royal Horticultural Society in association with the Royal Botanic Garden Edinburgh in late 2017 or 2018 - see 'Scots Roses, Rosa spinosissima and other Pimpinellifolias' . Publication has been delayed by bereavement and family illness.
Peter Boyd is a Member (representing Northern Europe) of the Heritage and Conservation Committee of the World Federation of Rose Societies, an advisor to The Heritage Rose Foundation and was Patron of Heritage Roses in Australia 2013-2014.
This website will continue to be developed with the occasional addition of illustrated articles and subsequently updated as necessary.
Some short-cut links to Peter Boyd's publications on particular subjects - see Publications for all his publications
Charles Darwin and Darwin Country
Botany, Plants and Garden History
Environmental Archaeology and Palaeoecology
Museum or Heritage Websites and GIS
Scots Roses and other Pimpinellifolias
* Information on Peter D. A. Boyd's forthcoming book *
'Scots Roses, Rosa spinosissima and other Pimpinellifolias'
Web versions of published and other contributions:-
Article for the ISHS Sixth International Symposium on Rose Research and Cultivation, Hannover, Germany, 25th-30th August 2013 Scots Roses and related cultivars of Rosa spinosissima - a review and the original publication is available at www.actahort.org .

Article for the Historic Rose Journal. No. 46. Autumn 2013. Historic Roses Group, Royal National Rose Society. pp. 19-23. The Prince and the Pimpinell Rose

Article for the Journal of Heritage Roses in Australia. vol. 35, no.3. Spring 2013. pp. 5-15. The First Scots Roses in Australia

Article for Roses Anciennes en France. Bulletin 18, Autumn 2012. pp. 41-46. 'Scots Roses' and the French Connection

Article for 12th International Heritage Rose Conference at Sakura, Japan in June 2012 on Rosa spinosissima - aspects of its natural history and associations with people

Article for The Towton Herald (newsletter of The Towton Battlefield Society) Winter 2010-2011 (part 1) and Spring 2011 (part 2) on Towton Roses: fact and fable

Article for The Towton Herald (newsletter of The Towton Battlefield Society) Summer 2010 on The Towton Rose

Video of lecture at International Conference Bioscience and Society: Biodiversity - Diversity of Living Systems. Ljubljana, Slovenia. 2nd October 2009 on The Young Charles Darwin video [external website]

Article for International Conference Bioscience and Society: Biodiversity - Diversity of Living Systems in Ljubljana, Slovenia on The Young Charles Darwin article FULL TEXT

Article for The World Rose Convention in Vancouver Canada June 2009 on The World Heritage of Scots Roses

Article for a Special publication celebating the 25th Anniversary of the Friends of Shrewsbury's Borough Museums on The History of Shrewsbury Museums

Article for the Oxford Dictionary of National Biography on Henry Honywood D'Ombrain (1818-1905), Church of England clergyman and gardener.

Article for the Oxford Dictionary of National Biography on Charles M'Intosh (1794-1864), horticulturist.

Article for the Oxford Dictionary of National Biography on James McNab (1810-1878), horticulturist and botanist.

Article for the Oxford Dictionary of National Biography on William McNab (1780-1848), horticulturist.

Article for Rosa Mundi journal of the Heritage Rose Foundation: Rosa spinosissima, Scots Roses and the North American connection

Article for OGR & Shrub Journal of the American Rose Society: Scots Roses - past and present
Full text of article on the Victorian Fern Cult in South-west Britain: Victorian Fern Cult
Article for The Scottish Garden magazine Ferns and Pteridomania in Victorian Scotland

Paper for The Plantsman (RHS) Scots Roses then and now

Summary of presentation to International Heritage Roses Conference at Chaalis, France June 2007 published in Rosa Gallica Scots Roses and other Pimpinellifolias: their rediscovery and conservation

Paper for NCCPG Shropshire Group Newsletter 'The Darwin Family and their Plants at The Mount in Shrewsbury' Darwin Family Plants at The Mount

Paper for Plant Heritage (NCCPG) The Search for Lost Scots Roses

Paper for Roses et Roseraies on 'Rosiers Pimprenelles, Pimpinellifolias ou Scots Roses':-

Rosiers Pimprenelles, Pimpinellifolias ou Scots Roses (Version française)

Rosiers Pimprenelles, Pimpinellifolias or Scots Roses (English version)

Paper for Rosenjahrbuch 2005 on 'A Personal Crusade in Search of Scots Roses' / 'Ein persönlicher Kreuzzug auf der Suche nach Dünenrosen'. Scots Roses in Rosenjahrbuch 2005

Paper for PlantNetwork Newsletter on 'In Search of lost Scots Roses'. Lost Scots Roses

Paper for NCCPG Shropshire Branch Autumn Newsletter 2004 on 'Scots Roses in Europe and the Europa-Rosarium at Sangerhausen in Germany' Scots Roses in Europe

Paper for the RNRS Historic Rose Journal on 'Mary McMurtrie, painter of Scots Roses' Mary McMurtrie 1902-2003

Paper for the RNRS Historic Rose Journal on 'Scots Roses: a new look at an exuberant group of old roses' Scots Roses 3

Paper for NCCPG Shropshire Branch Spring Newsletter 2003 on 'Scots Roses, Scotch Roses, Burnet Roses - by any other name would smell as sweet!' Scots Roses 2

Paper for Darwin Day Program on 'Shrewsbury, Shropshire: Birthplace of Charles Darwin and Darwin Country'. Charles Darwin and Shrewsbury

Abstract of paper on 'ShrewD Access' for 'Joined-up users' for mda 2002 Conference 'Common Threads' . ShrewD Access for Joined-up Users

Paper for Vine on 'Multi-disciplinary Content Management in Darwin Country'. Multi-disciplinary Content Management in Darwin Country

Paper for Spectra on website creation and content management in 'Darwin Country': Spectra paper on content management

LITC/LAMIT Conference presentation on Content Management in Darwin Country: Website Content Management

Scots Roses - cultivars of Rosa pimpinellifolia: Scots Roses
Humphrey J. Welch (conifer expert) obituary: Humphrey J. Welch 1908-2001
AGI Conference 2000 GIS paper: Heritage UK plc - a portal to space and time through web GIS

AGI Conference 1999 GIS paper: GIS in Museums - a case study

Darwin's Garden at The Mount, Shrewsbury article: Darwin Garden Project

Sale of Darwin's Garden at The Mount, Shrewsbury: Sale of The Mount 1866

Garden History in Darwin Country Website: Garden History in 'Darwin Country'

Shropshire cultivated plants article: A register of Shropshire-related cultivated plants

Ferny antiques article: Pteridomania - the Victorian passion for ferns

Victorian Fern Cult in South-west Britain: Victorian Fern Cult

British Pteridological Society article: North Devon Field Meeting 1992

Palaeoecology and environmental archaeology in medieval London: Medieval River Fleet
Other websites with Peter D. A. Boyd pages
academia.edu: http://www.academia.edu
ResearchGate: http://www.researchgate.net
loop Frontiers: http://www.loop.frontiersin.org
Other links
British Pteridological Society
World Federation of Rose Societies
---
Peter D. A. Boyd.
Copyright İ 2016 Peter D. A. Boyd. All rights reserved.
Revised: May 3rd 2016