Peter D. A. Boyd
Peter D. A. Boyd
Web version of
Boyd, P.D.A. (2008) 'Scots Roses - past and present'. The OGR and Shrub Journal. American Rose Society. Vol. 4, issue 4, Spring 2008.
This article is an extended and updated version of Boyd, P.D.A. (2007). 'Scots Roses then and now'. The Plantsman. The Royal Horticultural Society. June 2007, pp. 104-111.
Introduction
The true Scots Roses are cultivars of Rosa spinosissima (syn. R. pimpinellifolia) and some hybrids of the species that have similar character. They are sometimes known as 'Spinosissimas' or 'Pimpinellifolias'. However, these terms are often used to include hybrids of R. spinosissima that are not what I regard as typical Scots Roses. The term 'Hybrid Spinosissimas', as used in the USA, is also misleading because not all 'Spinosissimas' are hybrids! The term 'Pimpinellifolias' is sometimes used, in an even broader sense, to embrace other species within section Pimpinellifoliae (e.g. R. ecae, R. foetida, R. hugonis, R. primula, R. sericea and R. xanthina). This article is limited to typical Scots Roses and other hybrids of Rosa spinosissima.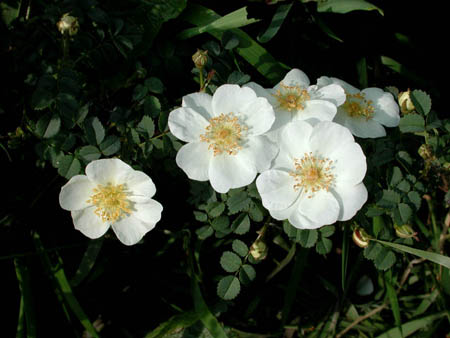 Wild Rosa spinosissima usually has white flowers
Scots Roses are sometimes referred to as Scotch Roses (the adjective 'Scotch' is not favoured in Scotland), Scottish Roses (ambiguous) or Burnet Roses because of the resemblance of the leaves to those of Burnets (Sanguisorba spp.). I prefer the term 'Scots Roses' in its capitalised version, as used here. I consider that 'Scots rose' with a small 'r' is ambiguous and might be applied to any rose growing in or associated with Scotland. The old name, R. pimpinellifolia, and the name given to section Pimpinellifoliae, comes from Pimpinella, a previous generic name for Sanguisorbas.
Scots Roses flower profusely in May and June with single or double flowers about 5cm across that are usually sweetly scented. The flower colour can be white, cream, yellow, pink, red, purple or mauve, and some cultivars have marbled, striped or veined blooms. Most typical Scots Roses have small leaves, and stems covered with narrow prickles and bristles. They extend by suckers (root-shoots) to form a mound of foliage and flower. Many of them produce attractive black, rounded fruits and some also have good autumn foliage colour in shades of red and orange.
They are unfamiliar to those who visit rose gardens at the peak time for other roses and they are rarely displayed at rose shows that are usually held after their normal flowering time.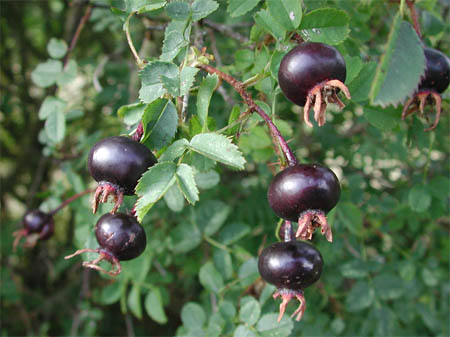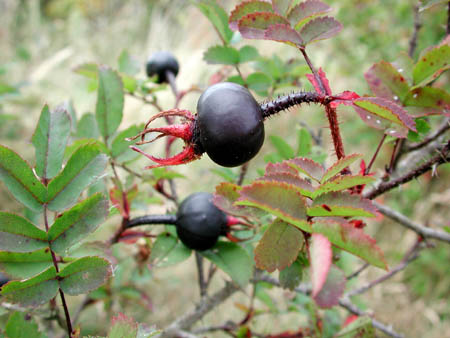 Black rounded heps are typical of Rosa spinosissima but some forms have smooth fruit stalks and others have prickly or bristly fruit stalks.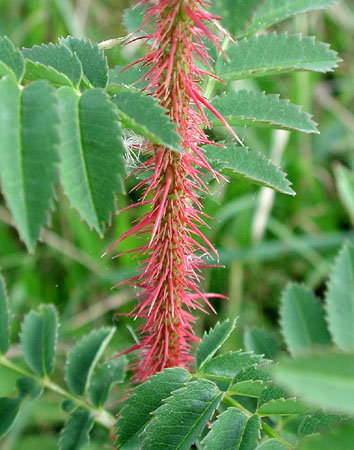 Detail of the young stem of a Rosa spinosissima cultivar showing the mixture of prickles and bristles.
Rosa spinosissima in the wild
Rosa spinosissima occurs naturally over a large part of Europe and Asia. In Britain, it is probably most abundant as a coastal plant growing on sand dunes. The typical form that grows wild in the British Isles and the western fringes of mainland Europe is low-growing, prickly, bristly and suckering with small, single, white flowers and small leaves with 7–11 leaflets (sometimes only 5) that often have an attractive blue-grey colour. In contrast, some forms of the species in cultivation have originally come from inland populations in mainland Europe and Asia and include less bristly, taller growing forms with larger leaves and flowers.
Early cultivation history
The first coloured variants of R. spinosissima were found in the wild and described in the 17th century but no double forms were available from nurseries until the early 19th century. Joseph Sabine (1822) described their early history.
In 1793, Robert Brown and his brother transplanted some of the wild Scots Roses from Kinnoull Hill, near Perth, Scotland, into their nursery of Dickson and Brown. One of these bore flowers slightly tinged with red and a seedling raised from that plant bore flowers with more petals than normal. Through a repeated process of sowing seed and selection from the seedlings, semi-double forms were obtained and they had eight good double cultivars to propagate and sell by 1803.
Robert Brown made these cultivars available to other nurseries including Robert Austin of Austin & McAslan in Glasgow who bred over 200 new double cultivars by the mid 1820s. An Austin & McAslan list of c.1825 has abbreviated descriptions and provides an indication of the range of colours that was available. Different shades of 'blush' (pink) were the most common, along with white, cream, yellow, red and purple. These colours were combined in cultivars with 'marbled', 'striped' and 'tinged' flowers.
Other British nurseries also raised new cultivars and Lee of Hammersmith in London could offer some 300 by 1830. Growers in France and other parts of Europe also raised new ones, but a smaller number than in Britain.
It may be noted that Scots Roses were first developed during the Napoleonic Wars and became popular during the period depicted in Jane Austen's novels.
The Royal Botanic Garden Edinburgh had a large collection of Scots Roses in the 1820s and played a significant part in distributing plants of these roses to other Botanic Gardens and individuals in different parts of the World. The Royal Botanic Garden Kew also had a large collection. Neither Edinburgh nor Kew still currently possess collections of Scots Roses, presumably because, even before the end of the 19th century, their main raison d'être had become the cultivation and conservation of plant species rather than cultivars and hybrids.
Some wealthy individuals built up large collections of Scots Roses. The Duke of Bedford had created a Rosarium Scoticum at Woburn Abbey with about 260 different Scots Roses by 1830, and the Duke of Buccleuch had a collection of 150 at Dalkeith Palace near Edinburgh. Unfortunately, these collections have not survived.
Decline of interest
Scots Roses began to lose popularity by about 1840. It is generally said that this was due to the introduction of new repeat-flowering hybrid roses but I believe that the loss of some of the champions and main breeders of Scots Roses, such as Robert Austin who died in 1830, contributed to the decline in interest.
By 1874, Shirley Hibberd wrote in The Amateurs Rose Book that 'the varieties are only to be met with in old gardens, as they are all quite out of fashion'. In 1902, Gertrude Jekyll wrote in Roses for English Gardens that 'those who are interested in this class of Rose should inquire in the good old Scotch gardens, where no doubt fine forms still exist that have not come into trade'.
Although the number of Scots Roses commercially available dwindled, some cultivars persisted as cottage garden plants. In Britain, Scandinavia and elsewhere many people retained a special affection for them and their suckers made them easy to share with friends. They achieved special significance in some countries.
In Finland, a double white cultivar is associated with celebrations of midsummer; in Norway and Sweden, a double blush is the 'Husmoderrose' (Housewife's Rose); and some forms (including 'Harison's Yellow') were carried west across 19th century America by settlers, persisting to this day by deserted homesteads.
Revivals
Although the old cultivars had gone out of fashion by 1900, R. spinosissima was used extensively in rose breeding in the 20th century. In Canada, Dr Frank Skinner (an expatriat Scot) and others raised hybrids that could cope with the extreme cold of Canadian winters. In Germany, Kordes raised the Frühlings cultivars and, more recently, the species has been used as a parent in rose breeding in Finland where Scots Roses and R. spinosissima derivatives are popular.
In Britain, various rose writers have tried to regenerate interest in the old cultivars over the years including Edward Bunyard (1936), Graham Stuart Thomas (1962) and Mary McMurtrie (1998). In Finland, the late Aila Korhonen (2002) and the Finnish Rose Society have published well-illustrated booklets on the Scots Roses and their relatives in that country.
Species involved in the hybrids
A number of natural hybrids have arisen in the wild from crosses between R. spinosissima and other native rose species in Britain and Europe. Other hybrids probably originated in nurseries or gardens as chance crosses between roses from different parts of the world in flower at the same time.
Many of the old cultivars were probably crosses between the normal British small-leaved suckering form of R. spinosissima and the non-native R. pendulina (red flowers) or R. foetida (yellow flowers) or were seedlings of such hybrids. Most 20th century hybrids were man-made crosses involving the taller, larger-flowered form of R. spinosissima from Asia that produced plants that are very different from typical Scots Roses.
Simple hybrids between R. spinosissima and another species may betray their hybrid origin through larger leaves on taller, more upright and less prickly stems, elongated reddish fruits instead of the typical rounded black ones or a scent that is not that of R. spinosissima. While some hybrids resemble one parent, other plants of the same parentage may resemble the other. Complex hybrids may have R. spinosissima characteristics diluted to varying extents.
Naming problems
The naming of R. spinosissima cultivars and hybrids in cultivation is confused and I hope to be able to clarify the situation in a book that I am writing on the history, nomenclature and cultivation of Scots Roses and their relatives. I can only touch on some of the issues in this article.
My research has identified the size of the problem in that I have compiled a list of about 1,000 cultivar names used in books, nursery catalogues and other publications from the 17th century to the present day. Where original descriptions are also available, they provide a basis for checking the naming of those cultivars still in cultivation. I have also been able to use my research to assist with the identification of Scots Roses and their relatives at the Europa-Rosarium at Sangerhausen in Germany, at the Roseraie du Val- de-Marne at l'Haÿ les Roses near Paris, and other gardens. However, it is sometimes easier to say that a rose is not what the label says, than to give it a definitive name!
Many of the small number of Scots Roses that are currently available in commerce have names that are misleading because they are applied to more than one cultivar or they are incorrect. I suspect that this is because such a small number of Scots Roses have been described in rose books published within the last hundred years. This tempts nurserymen and gardeners to apply one of the few published names to the plants in their collections.
Several of the names applied to Scots Roses described in modern rose publications were not used before the 20th century, or were applied to different cultivars in earlier times. However, the practice of giving a new name to an old cultivar may be better than trying to apply an old name incorrectly, or using names such as 'Double White' or 'Double Pink' which are applied to numerous different semi-double and double forms.
Some widely available cultivars and hybrids
The number of cultivars readily available from nurseries today is a tiny fraction of those that could be purchased in the 19th century and those available include hybrids raised in the 20th and 21st centuries and older 'varieties' given new names.
These may be divided into: