Peter D. A. Boyd
Peter D. A. Boyd
Web version of
Boyd, P. D. A. 2013a. The First Scots Roses in Australia. Journal of Heritage Roses in Australia. vol. 35, no.3. Spring 2013. pp. 5-15.
---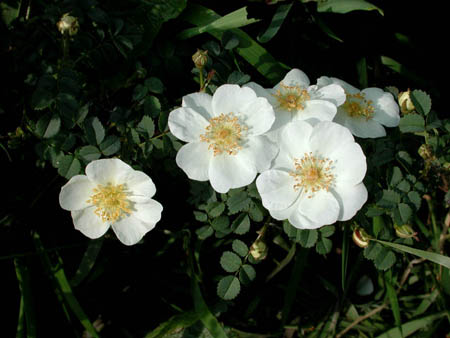 Fig. 1. Flowers of wild Rosa spinosissima.
[Further images from original paper to be added shortly]
Scots Roses have a long and romantic history (see, for example, Boyd 2008a, 2008b and 2012). They are cold-hardy roses that thrive in much of New Zealand and those parts of Australia with a temperate climate (e.g. Tasmania and Victoria). Scots Roses will grow and flower where even a light frost is rare but they seem to grow most 'in character' and flower most profusely where the winter temperature falls low enough for frosts. They are also resistant to drought when they are well established. The true Scots Roses have a special charm and a wonderful perfume. This article records the first phase of my research into the history of Scots Roses in Australia.
Early nursery catalogues, other printed materials and hand-written archives provide the basic information about the first Scots Roses in Australia. Their investigation has been part of my research into the distribution of Scots Roses around the world for my book 'Scots Roses, Rosa spinosissima and other Pimpinellifolias' that is currently nearing completion.
R. spinosissima probably has the widest natural geographical distribution of any rose species in temperate regions, extending from North-west China, Mongolia and Southern Siberia to the coastal fringes of Western Europe and even an area in the Atlas Mountains of North Africa. However, R. spinosissima and its cultivars were also carried by immigrants to North America, Australia, New Zealand and other parts of the Southern Hemisphere.
R. spinosissima was cultivated in British gardens from earlier than the 16th century and it was illustrated in printed 16th and 17th century European Herbals. The first variant (possibly a natural hybrid) with 'coloured' flowers was found and described in Scotland in the late 17th century. This and subsequent cultivars became known as Scots or Scotch Roses (Boyd, 2012). 'Scots Rose' is now the preferred name in Scotland. A small number of single-flowered coloured Scots Roses and a double white Scots Rose were available by the second half of the 18th century. By 1830, several hundred single, semi-double and double cultivars had been raised in Britain and much smaller numbers were raised in Europe and North America. There were some 500 Scots Rose cultivars available by 1840 (Buist, 1839). According to statistics quoted by Buist, there were more Scots Roses than the sum of all the Gallicas, Centifolias, Damasks, Albas and Sweet Briars put together at that time. Therefore, it is extraordinary that many modern rose books, including those on 'Old Roses', ignore Scots Roses - in spite of the significant place that they have in the history of roses.
Although there were the hundreds of Scots Rose cultivars available in Britain and, even in New York, over forty cultivars were available (Prince, 1846); there are few early records of them in Australia. Pioneer immigrants would find it very challenging to carry and keep plants alive on a ship taking three to four months to reach Australia. The journey was stressful to roses and other plants that had to suffer higher temperatures than they were used to as they crossed the Tropics. Plants were not only in danger of drying out, but even if they started their journey in a dormant state at the start of a European winter, high temperatures in the Tropics could start them into growth and they might die without light or rot in a dark ship's hold. If they were carried on deck, they could die from baking in the sun and/or lethally drenched with seawater during storms. Dr Nathanial Ward first tested the efficacy of transporting growing plants in glazed cases by successfully sending some British ferns and grasses to Sydney in 1833. Such 'Wardian cases' only came into common use for transporting plants much later and principally by Botanic Gardens.
Named rose cultivars would probably have to travel to Australia as plants growing in soil or bare-root, wrapped in damp moss and waxed cloth or other suitable materials. Often, packets of seeds would have been a more practical option to carry and store on-board but such seeds would not reproduce a named rose cultivar. Therefore, it is to be expected that a rose cultivar surviving in an old garden from pioneer days may not necessarily be a cultivar that can be named; it may be an old named cultivar for which inadequate descriptions exist to identify it or it may have entered Australia as a seed! In later years, established colonists, who could afford the cost, might order named cultivars from nurseries in Britain or elsewhere but it was still a gamble whether or not the cargo would survive the journey. When an indigenous Australian nursery trade was established, it made the acquisition of roses far easier for Australian gardeners.
In spite of transport problems, roses had arrived in Australia by the 1820s. Indeed, Scots Roses were among the first roses in Australia - and prominent Scots were involved in their introduction! The first records of these roses are contained in a hand-written ledger 'The Catalogue of plants cultivated in the Botanic Gardens, Sydney', compiled in January 1828 by the Colonial Botanist, Charles Fraser (sometimes spelt 'Frazer'). Charles Fraser (c.1788-1831) was born in Perthshire, Scotland. He had arrived as a soldier in Australia in 1816 but was made Superintendent of the newly formed Botanic Garden in Sydney. He formally became Colonial Botanist in 1821 and was largely responsible for the development of the Botanic Garden (Australian Dictionary of Biography, 1966). He recorded the acquisition of the following cultivars of R. spinosissima (not all recognised as such at the time):-
Rosa spinosissima - introduced into the Botanic Garden by Lady Brisbane in 1821. Lady Brisbane was also a Scot and the wife of Major-General Sir Thomas Brisbane (from Ayrshire, Scotland) who was appointed Governor of New South Wales in 1821. They had presumably carried this Scots Rose with them, their family and staff on the merchant ship Royal George, arriving in Sydney in early November 1821 (Sydney Gazette 10th Nov 1821).
Rosa grandiflora (R. spinosissima 'Grandiflora') - introduced into the Botanic Garden by the Hon. Alexander Macleay (McLeay) in 1825 [?1826]. Rosa grandiflora, the "Large-flowered Scotch Rose", described and illustrated in The Botanical Register in 1825, is probably the true Asian 'Altaica' but other large-flowered forms of R. spinosissima from mainland Europe are common today. McLeay was yet another Scot, born in Ross-shire, Scotland and appointed Colonial Secretary for New South Wales in 1825. Although Fraser gives 1825 as the date for introduction of the rose to the Botanic Garden, McLeay was probably carrying this and R. sabinii (below) on the ship Marquis of Hastings when he landed at Sydney with his family in January 1826 (see Australian Dictionary of Biography, 1967). Incidentally, his famous later home, Elizabeth Bay House, was not built (completed) until 1839.
Rosa sabinii [mis-spelt 'sabinie'] (now recognised to be a natural hybrid Rosa x sabinii [R. mollis x R. spinosissima]) - also introduced into the Botanic Garden by the Hon. Alexander McLeay in 1825 [?1826]. Probably single pale pink (blush) flowers.
"Rosa spinosissima white" - introduced into the Botanic Garden sometime before 1828. The fact that R. spinosissima is normally white and was already recorded might suggest that this might have been a "Double White" and recorded as "white" to separate it from the "blush" or a later duplicate record of Lady Brisbane's R. spinosissima.
"Rosa spinosissima blush" - introduced into the Botanic Garden sometime before 1828. Possibly a "Single Blush" or a "Double Blush" or a later duplicate record of MacLeay's R. sabinii whose single flowers might be described as 'blush'.
I should state that the speculations about possible duplicate records are mine. As a former Museum Curator, I know that the same object may have been recorded more than once in a collection and I suspect that the same sort of thing has happened in Botanic Gardens! The 1828 compilation may have brought different precursor records together, particularly as Fraser did not record when the "white" and "blush" R. spinosissima entered the garden or the donor in the way that he did with what may be the 'primary' records.
Roses were probably propagated and distributed to other gardens by the Sydney Botanic Garden but the first record of a Scots Rose being stocked by an Australian nursery is not until nearly 20 years later in 1845 in the catalogue of plants sold by James Dickinson of Hobart, Tasmania (the second season of the nursery). He listed 16 named roses plus "many varieties" of Rosa gallica. His list included 'Scotch Rose' Rosa spinosissima.
The first incontrovertible record of a double Scots Rose in Australia that I have found is an auction advertisement in the Geelong Advertiser Victoria of 2 July 1850, where more than ten rose cultivars including 'Double Red Scotch' were sold by J. G. Carr on behalf of M. Dardelle.
The 1857 catalogue of the Royal Tasmanian Botanical Gardens in Hobart only includes 'Dwarf Scotch' - R. spinosissima.
There were no Scots Roses listed in the catalogues of John Rule, Victoria Nursery, Richmond, Victoria of 1855 and 1858 but the 1860 catalogue included "Harrisonii", as well as over 90 other rose cultivars.
The name "Harrisonii" refers to a double yellow hybrid, now best known by the cultivar name 'Harison's Yellow'. It is one cultivar of the R. spinosissima x R. foetida cross now known as R. x harisonii. It has the character of a Scots Rose, although it was raised in New York in about 1825. R. x harisonii includes a wide range of single and double cultivars with the same parentage. Several R. x harisonii cultivars or seedlings of it were available in the United States and Britain by the early 1830s. 'Harison's Yellow' or a related cultivar was introduced to Scotland as 'Hogg's Double Yellow' in 1834 (Boyd, 2008b).
R. x harisonii probably reached Australia from Britain rather than America. It was among the roses in a consignment despatched to William Macarthur at Camden Park (New South Wales) by the famous nursery, Veitch of Chelsea, London on 31st December 1859, on board the Hollinside (see Hortus Camdensis). Although none of the plants in that consignment survived the journey, similar consignments to Camden Park and other customers of Veitch (or other nurseries) did survive as R. x harisonii had clearly arrived in Australia by 1860.
As well as Rule's 1860 catalogue, R. x harisonii was also the only 'Scots Rose' in the 1861 catalogue of B. &. S. Johnson of Northampton Nurseries, Thomastown, Preston, near Melbourne; the 1862 catalogue of F. C. Davis of Moore Farm, Reedbeds, near Adelaide and the 1866 catalogue of M. Guilfoyle & Son of the Exotic Nursery, Double Bay, New South Head Road, Sydney, New South Wales.
It is a little disappointing that the list of Scots Roses and related cultivars in Australia before 1870, derived from archives and published sources that I have been able to see, is such a small one:-
1. R. spinosissima [1821]
2. R. spinosissima 'Grandiflora' (probably true 'Altaica') [1825 or 1826]
3. R. x sabinii [1825 or 1826]
4. R. spinosissima "White" - possible duplicate record of (1) [by 1828]
5. R. spinosissima "Blush" - possible duplicate record of (3) [by 1828]
6. R. spinosissima 'Double Red' [by 1850]
7. R. x harisonii 'Harison's Yellow' [mis-spelt "Harrissoni"] [c.1860].
Some nurseries may have sold more Scots Roses than I have been able to discover because their catalogues have not survived. At least one Australian nursery stocked over 200 varieties of roses by the late 1860s. Giles and Pascoe of Grove Hill Nursery, Third Creek, near Magill, Adelaide stated in their General Catalogues of 1868 and 1869 that they stocked over 200 rose varieties but they did not list the cultivars by name. Such a list might include Scots Roses but I have not been able to find a surviving copy so far.
There were probably more Scots Roses being grown in Australia by private individuals or Botanic Gardens than those that were available from Australian nurseries. Scots and other immigrants may have carried suckers or seeds with them as they made the arduous journey direct from Britain or via North America and roses could have been imported from a nursery in Britain by those who could afford the high costs. As far as I know, there are no published records of such private transactions but archives relating to imports by particular nurseries, botanic gardens or private individuals may exist in Australian Libraries and Archives or Estate Archives similar to those of Sydney Botanic Gardens and Camden Park. There may also be records in Britain of roses being sent to Australia but records of consignments received safely in Australia may be more useful as a guide to what was actually being grown in Australia.
Camden Park in New South Wales was one of the earliest Australian gardens for which records exist. The garden was established by William Macarthur in 1820. Macarthur could afford to import plants himself. However, there are no records of Scots Roses being grown there in the early years of the garden. Even by 1857, although a published catalogue of plants grown in the garden included about 74 rose cultivars, it did not include R. spinosissima or any related Scots Rose cultivars. However, it seems that R. x harisonii was grown there by 1861 (Hortus Camdensis).
I have only been able to consider here the Scots Roses that were recorded in the Sydney and Tasmanian Botanic Gardens or available through Australian nurseries by 1870. As I have suggested, the apparent paucity of cultivars before 1870 may be misleading and more will have arrived with immigrants or imported after that date.
Today, it still seems that only a few Scots Roses and related hybrids are available from nurseries in Australia. The list of cultivars available in Australia is similar to that in Britain and most of them have names that were not used before the 20th century. Lost from commerce in Britain are most of those hundreds of cultivars available in 1840. However, 'lost' Scots Roses are being found in old gardens, cemeteries and roadsides in Britain, Europe, North America and New Zealand. I only know of two 'found' Scots Roses stocked by Australian nurseries ('Canonvale' and 'Rosemary Roache's Burnet') but, hopefully, there are more - preserved in private collections. There may be others surviving in old Australian gardens etc. - yet to be recognised, recorded, conserved and propagated.
I have perused current (2013) online catalogues of several Australian rose nurseries. The list of Scots Roses and related cultivars available in Australia seems to be as follows:-
R. spinosissima, "Altaica", 'Andrewsii', 'Canonvale', 'Dunwichensis', 'Glory of Edzell', 'Harisonii', 'Irish Rich Marbled', 'Mary Queen of Scots', 'Rosemary Roache's Burnet', 'Single Cherry', 'Single Purple', 'Stanwell Perpetual', 'William III'.
This list may not be complete and some of these may be misnamed. For example, "Altaica" is a name given to a rose that I have seen in several New Zealand gardens that is nothing like the true Asian 'Altaica'. Descriptions of so-called 'Altaica' by Australian authors and photographs, make me suspect that the false 'Altaica' is also present in Australia, although the true 'Altaica' was probably imported in 1825. I will address this and other mis-identifications in a future article but see Boyd 2008a.
There are also more or less complex hybrids of R. spinosissima in Australia that should not be included in 'Scots Roses' and some of which have only a small number of genes from R. spinosissima including: 'Fruhlingsduft', 'Fruhlingsgold', 'Fruhlingsmorgen', 'Fruhlingssanfang', 'Golden Wings', 'Maigold' and 'Suzanne'.
I have only been able to briefly introduce the history of Scots Roses in Australia here. I have had to rely mainly on access to 'The Colonial Plants Database' (online at http://www.hht.net.au/collections/research/colonial_plants ), supplemented with further information culled from old Australian nursery catalogues, newspaper advertisements and other material made freely available online by The National Library of Australia (http://trove.nla.gov.au ). The latter includes catalogues and advertisements that have not yet been transcribed for The Colonial Plants Database. Both are wonderful resources.
I would be very pleased to receive information about early nursery catalogues or other early sources that include Scots Roses.
I intend to write further articles for Heritage Roses in Australia but, in the meantime, most of my previous articles on Scots Roses are available on my website at www.peterboyd.com/scotsroses.htm and http://independent.academia.edu/PeterDABoyd. My book will be completed soon and is due to be published next year by the Royal Botanic Garden Edinburgh and the Royal Horticultural Society.
Email: peterboyd@btinternet.com
References (others are referred to within the text):
Boyd, P. D. A. 2008a. 'Scots Roses - past and present'. OGR & Shrub Journal. American Rose Society. Vol 4, Issue No. 4. Online at http://www.peterboyd.com/rosapimp12.htm .
Boyd, P.D.A. 2008b. 'Romantic Survivors: Rosa spinosissima, Scots Roses and the North American connection'. Rosa Mundi. Heritage Rose Foundation, v.22, 3, pp. 4-31. Spring/Summer 2008. Online at http://www.peterboyd.com/rosapimp14.htm
Boyd, P. D. A. 2012. Rosa spinosissima - aspects of its natural history and associations with people from prehistory to the present day. 12th International Heritage Rose Conference, Sakura, Japan. 31st May - 6th June 2012. World Federation of Rose Societies. Online at http://independent.academia.edu/PeterDABoyd
Buist, R. 1839. The American Flower Garden Directory (2nd Edition).
Catalogue of annual and herbaceous plants, flowering bulbs and tubers, ornamental shrubs, forest trees, fruit trees and culinary plants and seed, on sale by James Dickinson, 39 Murray Street. Hobart Town. Van Diemen's Land. William Gore Elliston. 1845.
Catalogue of Plants cultivated at Camden Park, New South Wales. 1857.
Catalogue of Plants in the Royal Society's Gardens, Queen's Park, Hobart Town. 1857.
'Frazer, Charles (1788-1831)', Australian Dictionary of Biography, National Centre of Biography, Australian National University, http://adb.anu.edu.au/biography/frazer-charles-2068/text2579, accessed 21 August 2013.
'McLeay, Alexander (1767-1848)', Australian Dictionary of Biography, National Centre of Biography, Australian National University, http://adb.anu.edu.au/biography/mcleay-alexander-2413/text3197, accessed 22 August 2013.
Hortus Camdensis. Online at www.hortuscamden.com
Prince, William. 1846. Manual of Roses [incl. catalogue for 1846]. New York.