Welcome to peterboyd.com
Peter D. A. Boyd
Scots Roses in Europe and the Europa-Rosarium at Sangerhausen in Germany
Peter D. A. Boyd
Web version of
BOYD, P.D.A. 2004. Scots Roses in Europe and the Europa-Rosarium at Sangerhausen in Germany. NCCPG Shropshire Group Newsletter Autumn 2004.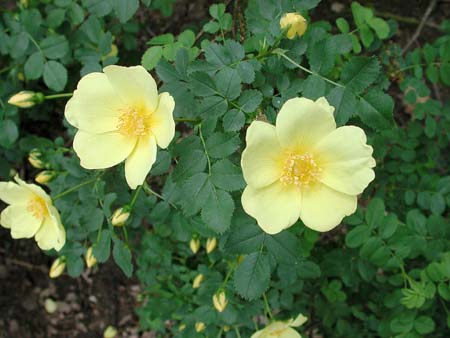 A single-flowered hybrid of Rosa pimpinellifolia x Rosa foetida at the Europa-Rosarium
Scots Roses were first introduced to many Shropshire members of the NCCPG through articles that I wrote for the Shropshire NCCPG newsletter in 2002 and 2003. Scots Roses are cultivars of Rosa pimpinellifolia (also known as Rosa spinosissima). My own collection of cultivars (which has been submitted for National Collection status) has now grown to about 200 taxa, plus numerous seedlings. The research that I have carried out into 18th, 19th, 20th and 21st century nursery catalogues and other sources has now generated a list of about 700 names of Scots Rose cultivars that have been in commerce at some time. These records will form part of the book that I am writing about this old group of roses.
I have found the Internet World Wide Web to be a very useful tool for searching for individuals, nurseries, botanic gardens, libraries and other organisations with an interest in Rosa pimpinellifolia and its cultivars. I have also found that placing the text of my published articles on my own website has attracted a surprising amount of interest from rose enthusiasts in other parts of the world. As a result, I have made new contacts and some new friends in other countries. I have also acquired a range of 'cultivars' not available in Britain – although, probably, most of them originated here!
The most detailed article that I have written about Scots Roses was published recently in the Autumn 2004 number of the Royal National Rose Society's Historic Rose Journal. The text of that article together with an appreciation of the late Mary McMurtrie, painter of Scots Roses, published in the same journal may be seen on my website at http://www.peterboyd.com .
I have discovered that there is a special interest in Scots Roses in Northern Europe, particularly in Denmark, Sweden and Finland. Their hardiness is particularly valued in Finland and probably more cultivars and hybrids of Rosa pimpinellifolia are currently sold by nurseries there than anywhere else. Many of these cultivars have been 'found' in old gardens and given a new Finnish name. Probably the majority were introduced from Britain in the nineteenth century but, as in Britain, the original names have been lost. Pirjo Rautio of the Finnish Rose Society has been very helpful with information about Scots Roses in Finland and kindly put a link from the Society website to the articles on my own website - which led to further interesting contacts.
In Spring 2004, I placed a request for information in the Historic Rose Journal about old nursery catalogues from the 1820s (particularly Lee of Hammersmith) that I have been trying to trace. Unfortunately, this did not result in the unearthing of copies of these catalogues - still searching! However, it did result in some further interesting correspondence with 'pimpinellifoliaphiles' in Switzerland, Germany, Austria and Australia.
The most unexpected correspondence of the year was an invitation to visit the largest collection of old rose cultivars in the World, the Europa-Rosarium at Sangerhausen in Germany. The invitation came via Dr. Volker Wissemann of the Institut für Spezielle Botanik der Universität Jena with whom I had corresponded about Scots Roses and Frau Hella Brumme, Director of the Europa-Rosarium. The Stiftung des Vereins Deutscher Rosenfreunde (a Foundation supporting the work of the Europa-Rosarium) was prepared to fund my visit to assist with the identification of Rosa pimpinellifolia cultivars in the collection.
My first reaction was a mixture of excitement and apprehension! I gave them the chance to withdraw the invitation as I felt that the more I had studied Scots Roses the more I realised how little I knew. My researches had shown how much less was known about Scots Roses than the standard text-books on roses might suggest. I pointed out that with a list of 700 names of Scots Roses so far (most without a detailed description) together with the fact that nurseries also sold Scots Roses as 'mixed un-named seedlings', no one could look at a specific cultivar and necessarily give it the name that it originally had – if it ever had one! Fortunately, the invitation was not withdrawn and plans were put in place for my visit to Sangerhausen at the end of May 2004. Everyone involved with the visit was very helpful and almost all that I had to do was get a new passport and book my flight.
Sangerhausen is situated between Leipzig and Göttingen. The nearest airports are Erfurt and Leipzig Halle. I flew from Manchester via Frankfurt to Leipzig Halle where I was collected and driven to Sangerhausen.
Sangerhausen itself is a fascinating medieval town, rich in historic buildings and full of character. It is a regional centre in part of what was East Germany. The wealth of the town in medieval times was based largely on the copper mining industry which continued to employ large numbers of people until the unification of East and West Germany. I found everyone extremely friendly and helpful, the town was very clean and its history has been carefully preserved. It occurred to me that the town has a lot in common with Shrewsbury and that Sangerhausen would be an excellent candidate for 'twinning' with Shrewsbury. Tourism has now become an important part of the local economy and I would certainly recommend Sangerhausen as a place to visit even if it did not have the Rosarium. However, the Europa-Rosarium makes Sangerhausen a place of pilgrimage for plantsmen.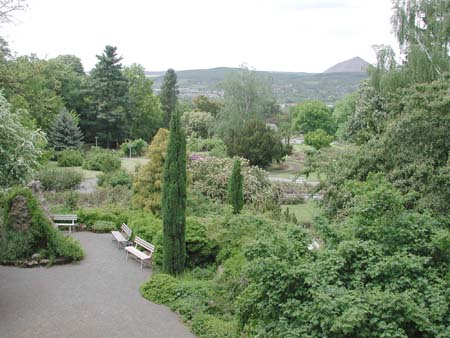 A view over an older part of the Europa-Rosarium. The 'peak' in the distance is a remnant of centuries of copper mining
The Europa-Rosarium first opened in 1903 on 1.5 hectares. It now occupies about 12.5 hectares and celebrated its centenary in 2003. Its collection contains some 7000 cultivars and about 500 'wild roses'. The latter are rose species and their hybrids. These include cultivars and hybrids of Rosa pimpinellifolia.
The roses in the Rosarium are mainly grown in groups according to their 'class' such as Alba, Bourbon, Damask or Gallica. Although the Scots Roses would comprise a separate 'class' in Britain, they are not treated in this way in German rose books or at the Rosarium. However, the wonderful collection of 'wild roses' contains not only distinct coloured forms but also many other cultivars of Rosa pimpinellifolia with single white or cream flowers. Some of the latter look superficially very similar and I found the Sangerhausen experience very valuable in forcing me to look for distinguishing characters that one might otherwise ignore.
During the few days that I was at the Rosarium, I worked in turn with Hella Brumme (Director), Thomas Havel (Deputy Director) and Volker Wissemann examining each rose about which there was a question, writing a description and taking photographs of discriminatory characters. Fortunately, the weather was fine but not too hot. Unfortunately, it was too early for some cultivars to be in flower and I may need to return another year!
As well as trying to use physical botanical characters that a gardener could recognise, I found that the scent or smell could provide a clue to parentage. The hint of or distinct scent of Rosa foetida was unmistakable not only in double and single yellow or cream cultivars but also in some single white cultivars, otherwise indistinguishable at first sight from Rosa pimpinellifolia. In other cultivars, the presence of glands with a spicy or fruity odour on buds and stalks provided a distinctive character absent in other cultivars. I examined some of my own plants with a new insight when I returned home to my own collection.
Some of the other classes of rose are grown in a variety of innovative ways in the Rosarium itself and along some streets in the town. Climbing roses are trained up tall timber poles in beds that resemble something like a forest of 'totem' poles before growth starts in the Spring but which I imagine provide a spectacular display when in flower. The technique allows more roses to be grown and exhibited than could be grown in more traditional ways. New metal supporting structures erected as street furniture in parts of Sangerhausen for growing climbing roses resemble pieces of 'modern art' but they will be very attractive when the roses are established and they allow a way of bringing such roses into urban environments from which they are normally absent.
The Rosarium has survived two World Wars. However, the important Library of the Rosarium was plundered during the Russian occupation at the end of World War II so that its fine collection of old rose books lacks the more valuable ones which were removed to Moscow (together with many roses from the collection). These books have never been returned. However, the library has been enhanced since then and it remains a valuable resource including, for my interest, some useful lists of Scots Roses in old German rose books and nursery catalogues.
There was a period of decline in the Rosarium due, to some extent, from being cut-off from free association with the West but more importantly due to lack of resources. However, during the last few years the Rosarium has been re-invigorated with various new developments culminating with the creation of new areas of planting and new facilities for the centenary in 2003. During these developments, the fine statue-bust of the Kaiserin Auguste Viktoria (depicted holding a bunch of old roses) that graced the gardens early in its history, was unearthed from where it had been buried during the period of Communist rule (when depictions of the German Royal Family were not allowed). It has now been re- erected and is joined by some interesting pieces of contemporary art dotted around the gardens – some of which could be said to be 'challenging'.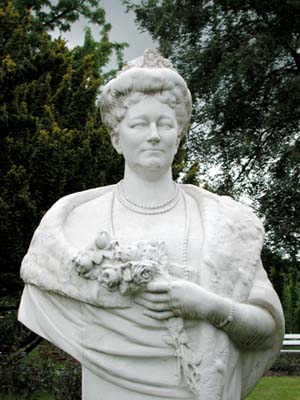 Kaiserin Auguste Viktoria (Patron of the German Rose Society when the gardens were created) bearing old roses. The marble bust was re-erected in the Europa-Rosarium after being buried in the garden under Communist rule
The gardens do not only have roses but also include some very fine mature specimens of unusual conifers, other trees and shrubs as well as perennials. One shaded area has been planted with what seemed to be modern German hybrid Rhododendrons. However, I was particularly pleased to see some of the fine trees including a female Ginkgo biloba (Maidenhair Tree) 'in flower' (females are more unusual than males in Britain and rarely of a size to 'flower') and a magnificent and enormous double-flowered form of Aesculus hippocastanum (Horse Chestnut).
I am most grateful to the Stiftung des Vereins Deutscher Rosenfreunde e.V., Europa- Rosarium-Sangerhausen for funding my trip, Dr Volker Wissemann of the University of Jena, Frau Hella Brumme (Director of the Europa-Rosarium), Herr Thomas Havel (Deputy Director) and other staff of the Rosarium for making my time in Sangerhausen so easy and fruitful; also Frau Karin Thom of the Tourist Information Centre in Sangerhausen who kindly gave me a private tour of the town and Frau Kundlacz at "Am Rosarium" who managed to cope with my lack of German language skills wonderfully. I hope to visit Sangerhausen again.
Further information:
BOYD, P.D.A. 2004. Scots Roses: a new look at an exuberant group. Historic Rose Journal No. 28, Autumn 2004, The Royal National Rose Society, pp. 2-11. Website version at http://www.peterboyd.com/rosapimp3.htm.
BOYD, P.D.A. 2004. 'Mary McMurtrie, painter of Scots Roses'. Historic Rose Journal Royal National Rose Society. No. 28 Autumn 2004 p. 7. Website version at http://www.peterboyd.com/mcmurtrie.htm .
Note: Peter Boyd will be adding more images of the Europa-Rosarium and Sangerhausen itself to this page (images that were not included in the original article)