Welcome to peterboyd.com
Peter D. A. Boyd
Mary McMurtrie, painter of Scots Roses
1902-2003
Peter D. A. Boyd
Web version of
BOYD, P.D.A. 2004. Mary McMurtrie, painter of Scots Roses. Historic Rose Journal. No. 28, Autumn 2004, The Royal National Rose Society, p.7.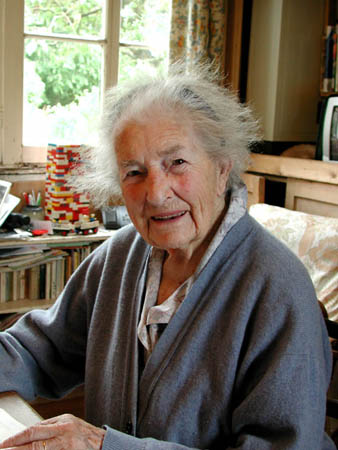 Mary McMurtrie at 100 years old. Photo: Peter Boyd
Mary McMurtrie was born in June 1902 in the village of Skene, Aberdeenshire and died in the city of Aberdeen, on the 1st November 2003, in her 102nd year. She was the oldest working artist in Britain, the widow of a church minister, a nurserywoman, mother of four children and grandmother to 17. She published her first illustrated book The Wild Flowers of Scotland in 1982 when she was 80. She painted flowers in Scotland, Kenya and the Algarve and it is her book on Scots Roses of Hedgerows and Wild Gardens which provides the reason for us to commemorate her in this journal.
This book was published in 1998 (when she was 96 years old) and, like her other books, it is illustrated with her charming watercolours. However, the book came not only from the brush of a highly accomplished artist but also from the pen of a plantswoman who ran a successful nursery specialising in alpines and old-fashioned plants until her 'retirement' in her 80s. Her Scottish Wild Flowers was published in 2001 and her final book, Old Cottage Pinks, was published in January this year.
Unfortunately, I did not meet Mary until she was 98 years old. Although I had started to collect Scots Roses over 30 years earlier, the publication of Mary's book had contributed to my renewed interest in them. I visited Mary and members of her family several times at their home near Aberdeen and last saw her in June 2003. Although she had become very deaf, her eyesight was still excellent (she painted without the need for spectacles), her brain as bright as ever and her character as delightful as the Scots Roses that she painted. I have fond memories of afternoons spent talking about Scots Roses with Mary and her daughter Elspeth (who is also a collector of Scots Roses).
Mary McMurtrie was a remarkable woman who enjoyed a long and fulfilling life and who was much loved by her family and all who knew her.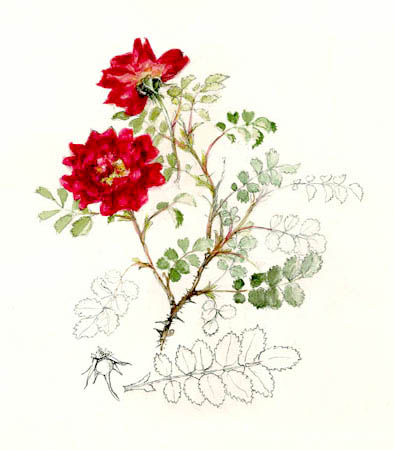 'Dundee' - illustration taken from Mary McMurtrie: Scots Roses of hedgerows and wild gardens, first published by Antique Collectors Club, Woodbridge in 1998. Courtesy Antique Collectors' Club.