Peter D. A. Boyd
Peter D. A. Boyd
Web version of
BOYD, P.D.A. 2006b. 'The Search for Lost Scots Roses'. Plant Heritage. Vol. 13. No.2 Autumn 2006. NCCPG (National Council for the Conservation of Plants & Gardens) pp. 31-33.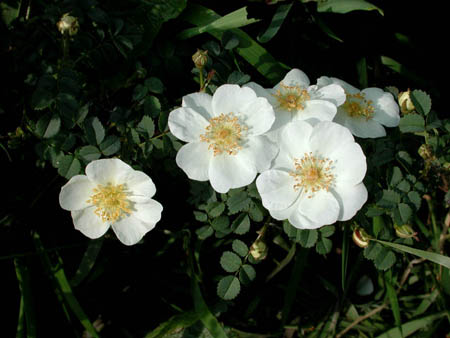 Single white Rosa spinosissima seedling raised from seed collected in the wild by the author.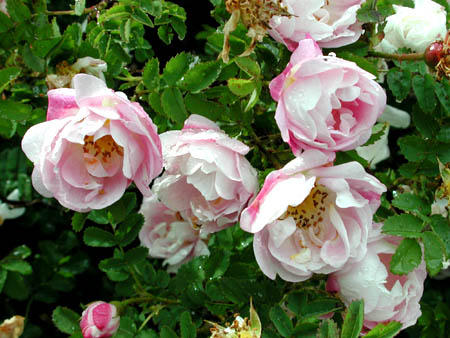 A semi-double marbled Scots Rose found by the author near Peebles, Scotland.
The true Scots Roses are cultivars of Rosa spinosissima (also known as Rosa pimpinellifolia) and some hybrids of the species that have a similar character.
Hundreds of cultivars of 'Scotch Rose' were available in the early 19th century but the RHS Plant Finder now only lists 18 cultivars of Rosa spinosissima and the accuracy of some names used by some nurseries is questionable!
A few complex hybrids such as 'Frühlingsgold' are listed in catalogues as 'Scots Roses' but they do not have the same character as the 19th century Scots Roses. Even the old and popular 'Stanwell Perpetual' (1838) is a complex hybrid and lacks the character of a true Scots Rose.
I am writing a book on the history and nomenclature of Scots Roses that aims to be a fully referenced 'definitive' source of information for garden historians and rose lovers. In the course of my research, I have derived a list of about 1000 names of Scots Rose cultivars from eighteenth, nineteenth, twentieth and twenty-first century nursery catalogues, rose books and other publications.
However, my research has also involved collecting and studying surviving cultivars. Only a few cultivars of Scots Rose are now commercially available in Britain but most are easy to propagate as they sucker freely. Many in my own collection of some 200 cultivars, which has just achieved National Collection status, have been propagated from surviving plants in old gardens.
Scots Roses flower profusely in May and June with single or double flowers (often sweetly scented) in white, cream, yellow, pink, red, purple or mauve and some cultivars have mottled or striped blooms. Some cultivars have good autumn foliage colour and many produce attractive black rounded heps.
The history of garden forms of Scots Rose started on Kinnoull Hill, Perth, where, in 1793, Robert Brown and his brother collected plants of Rosa spinosissima to plant in the nursery of Dickson and Brown. After a few years of seed-sowing and selection, Robert Brown had developed several coloured and double forms which were distributed to other nurseries in Scotland and England. Robert Brown and these other nurseries continued to raise new forms and, by 1830, one nursery alone could offer some 300 varieties.
Some private individuals built up large collections of Scots Roses. The Duke of Bedford had created a Rosarium Scoticum at Woburn Abbey with about 260 varieties of Scots Roses by 1833, and the Duke of Buccleuch had a collection of 150 varieties at Dalkeith Palace near Edinburgh by the 1840s. As far as I am aware, nothing remains of these and other large collections.
By 1898, Shirley Hibberd wrote in The Amateurs Rose Book that 'the varieties are only to be met with in old gardens, as they are all quite out of fashion'; and, in 1902, Gertrude Jekyll wrote in Roses for English Gardens that 'those who are interested in this class of Rose should inquire in the good old Scotch gardens, where no doubt fine forms still exist that have not come into trade'.
I have spent a number of years inquiring in 'the good old Scots gardens' and elsewhere. I have been able to find old cultivars surviving. However, every year, I have been told of plants or collections grubbed out and some of those from which I have been allowed to collect in the past have since disappeared, so that the plants I propagated have become even more important.
You may have surviving Scots Roses in the gardens in your care. It is worth pointing out that an individual Scots Rose surviving in an old garden may be the last example of a particular cultivar and therefore have a significance that may not be obvious! A number of the cultivars that I have found in old gardens are apparently unique to the site where I found them.
Scots Roses are significant as survivals of a little-known historic horticultural phenomenon and fashion. You may own, be associated with or know of an old garden that may have old Scots Roses in it or you may have acquired a Scots Rose 'with a history'. I would be most grateful for information – with photographs of the roses if possible.
You may even be responsible for an old garden for which records show that it contained Scots Roses in the past. This would be interesting information – particularly if you have a list of the names of Scots Roses that were planted there.
Old nursery catalogues listing Scots Roses (particularly nineteenth century ones) are an invaluable source of information and a photocopy of any such catalogues would be very welcome.
Any information would be gratefully received and if you can supply a photograph of any Scots Roses that you would like identified, I may be able to suggest a name.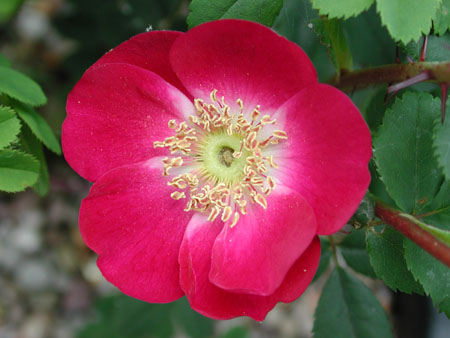 One of the Scots Roses known by the name 'Mrs Colville' – one of several hybrids between R. spinosissima and R. pendulina.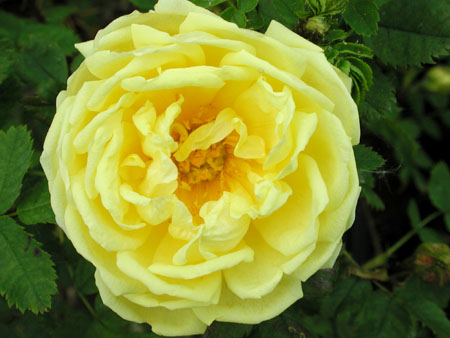 One of many single and double hybrids between R. spinosissima and R. foetida (i.e. a form of Rosa x harisonii).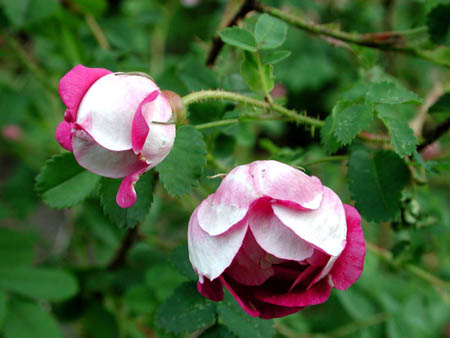 The bicoloured buds of one of the roses known by the name 'Mary Queen of Scots'.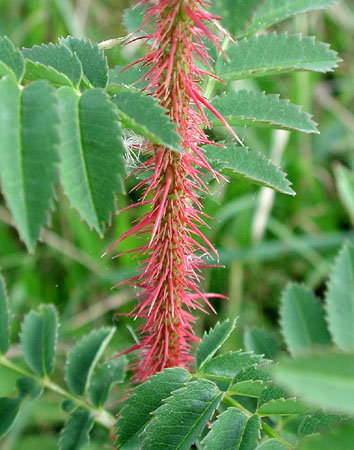 Detail of the young stem of a Rosa spinosissima cultivar.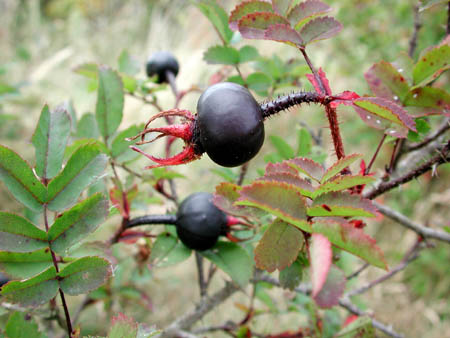 Black rounded heps are typical of Rosa spinosissima.
For more information about Scots Roses see:
Boyd, P. D. A. 2005. 'A Personal Crusade in Search of Scots Roses' / 'Ein persönlicher Kreuzzug auf der Suche nach Dünenrosen'. Rosenjahrbuch 2005, Verein Deutscher Rosenfreunde e. V., Baden-Baden, Germany. pp. 117-129. Web version (in English) at http://www.peterboyd.com/rosapimp6.htm .
Boyd, P. D. A. 2005. 'Scots Roses for Scottish gardens'. The Scottish Garden, spring 2005. pp. 10-15.
Boyd, P. D. A. 2004. 'Scots Roses: a new look at an exuberant group of old roses'. Historic Rose Journal Royal National Rose Society. No 28, autumn 2004, pp 2-11. Web version at http://www.peterboyd.com/rosapimp3.htm .
Several other articles on www.peterboyd.com/scotsroses.htm .
McMurtrie, M. 1998. Scots Roses of Hedgerows and Wild Gardens. Antique Collectors' Club Ltd., Woodbridge.
Contact details:
Peter D. A. Boyd
Collections Manager,Shrewsbury Museums Service, Barker Street, Shrewsbury, Shropshire SY1 1QH
Tel: 01743 361196.
E-mail (office): peterboyd@shrewsbury.gov.uk
E-mail (home): peterboyd@btinternet.com
Website: www.peterboyd.com