Welcome to peterboyd.com
Peter D. A. Boyd
Darwin Country - Cradle of Science, Technology and the Better Life! - a case study
Peter D. A. Boyd
Collections Manager and Darwin Country Project Coordinator Shrewsbury Museums Service
Web version of
Boyd, P.D.A. 2002. 'Darwin Country - Cradle of Science, Technology and the Better Life!' - a case study In mda information vol 5, no5, pp 35-44. Proceedings of the Museum Documentation Association Conference, September 2000: 'Clicks and Mortar - building cultural spaces for the 21st century'.
Abstract
Shrewsbury Museums Service is the lead museum in a partnership with the Wedgwood Museum and Ironbridge Gorge Museum Trust that attracted nearly £40,000 towards a £45,000 project (DCMS/MGC IT Challenge Fund £33,750 and West Midlands Regional Museums Council £5,625).
The project was intended to create an innovative website at http://www.darwincountry.org (illustrated with at least 3000 images from the archives, paintings, decorative arts, archaeology and scientific collections of the partner museums) to provide a multi-disciplinary introduction to scientific, technological and social developments in part of the West Midlands during the 18th and 19th centuries.
This paper (updated before going to press in September 2001) provides a progress report and examines the concepts, technologies, successes and problems!
Introduction
'Darwin Country - Cradle of Science, Technology and the Better Life!' was a website creation project intended to provide an inter-disciplinary introduction to scientific, technological and social development in part of the West Midlands during the 18th and 19th centuries. It was intended that it would enable life-long learners to explore the history of the period through the archives, paintings, decorative arts, archaeology and scientific collections of the partner museums.
The main partners were Shrewsbury Museums Service (the lead partner), the Wedgwood Museum and Ironbridge Gorge Museum Trust. The partners set an initial target of 3000 web pages with images for the finite project funded February 2000-March 2001. However, the project was designed to form the first phase of an on-going project simply named 'Darwin Country'.
Key aims of the project
· To use ICT to create an inter-disciplinary introduction to scientific, technological and social development in part of the West Midlands centred on the Shrewsbury-Ironbridge-Wedgwood triangle during the 18th and 19th centuries.
· To use ICT to enable life-long learners to explore the history of the period through the archives, paintings, decorative arts, archaeology and scientific collections of the main partners and other participants in the project.
Key objective of the project
· To create and subsequently maintain an integrated website (including images with associated interpretation) that fulfils the key aims of the project and the associated aims and objectives of the project. The project was subsequently named 'Darwin Country' with the website at http://www.darwincountry.org .
Associated aims and objectives of the project
· To support the overall aims of the DCMS/Resource IT Challenge Fund
· To support and develop the vision of The National Grid for Learning, A Netful of Jewels: New Museums in the Learning Age and regional strategy documents such as Advantage West Midlands through the pursuit of excellence and good practice within the management, content and implementation of the project.
· To support partnership throughout the development and operation of the project, allowing for additional partners to become involved, whenever appropriate and feasible, during the duration of the project.
· To further develop existing relationships with designated and national museums and currently non-registered museums.
· To enable the main partner museums and other organisations associated with and supporting the project to collaborate in developing an innovative approach to providing better access to their collections
· To create and maintain a website that provides a stimulating, interdisciplinary, integrated learning environment which encourages and supports life-long learning and provides a portal or links to other ICT initiatives such as the 24 Hour Museum and Cornucopia
· To use web technology and other forms of ICT to develop a range of superbly illustrated inter-related interpretative themes of a character, quality and scope that would be impossible through traditional publications or within static museum displays.
· To give individual items and collections 'added value' through their 'use' within the interdisciplinary environment of the website
· To be innovative through the development of access to collections information through on-screen maps using web-based Geographical Information Systems (GIS).
· To plan and complete this finite project in such a way that it provides a core upon which continuing development may take place in the future
How has the project differed from the original aims?
For the most part, the aims of the project have been fulfilled but, while there were encouraging discussions with several other museums for different levels of cooperation, these were not carried through to fruition. This was partly due to changes of personnel during the year at certain museums, the work required in developing the core parts of the project and the impingement of other work/emergencies in the partner museums.
It is anticipated that it will be possible to revive the discussions with other museums. The live website will now be able to demonstrate what is intended more clearly and enable prospective 'partners' or 'contributors' to assess the degree to which they wish to become involved more easily.
The museum partners and their collections
The project has had three museum partners:-
· Shrewsbury Museums Service - a local government service with four registered museums when the project was started - Shrewsbury Museum and Art Gallery (Rowley's House), Clive House, Coleham Pumping Station and Shrewsbury Castle. Clive House was sold in July 2001 and the collections transferred to Shrewsbury Museum and Art Gallery.
· Wedgwood Museum - an independent registered museum supported by a commercial company. It became a designated museum in 2000.
· Ironbridge Gorge Museums Trust - an independent trust with designated collections on a number of sites within the World Heritage Site (e.g. Coalport Museum, Jackfield Tile Museum and Museum of Iron).
Shrewsbury Museums Service (Shrewsbury and Atcham Borough Council)
The collections of Shrewsbury Museums Service comprise about 166,000 objects. They were started in 1835 as the museum of The Shropshire and North Wales Natural History and Antiquarian Society. Archaeology and Natural Science have remained, numerically, the most important components since those early days with about 112,000 archaeological objects, 18,000 biological specimens and over 5000 geological items currently in the collections. Several of the collections have been judged to be of National importance. The smaller collections of fine and decorative arts also include component collections of National importance.
The collections are rich in Shropshire ceramics (c.2500 items), costume and textiles (c.1500 items), Fine Art (c.1800 items) and photographs (c.3000 items). Although, in addition, the collections include some 1400 miscellaneous items of general social history interest, they lack the strong 'local bygones' component that one might normally expect from a long-established local museum.
The museum collections have evolved since 1835 in parallel with scientific, archaeological and social developments. They offer particularly good opportunities to interpret (1) the prehistoric and Roman archaeology of Shropshire; (2) the history and development of natural science during the 19th and early 20th century and (3) the development of applied and decorative arts within the social context of the same period.
The Shropshire Regimental Museum Trust collections (about 12,000 items) at Shrewsbury Castle cover the period from about 1790 to 1968 and contain a comprehensive array of military uniforms, regimental colours, edged weapons, firearms, headgear, badges, medals, orders and decorations, prints and paintings, regimental china (including Coalport) and regimental silverware. These collections reflect the history of decorative and applied art as much as the domestic and overseas role of the regiments themselves.
Wedgwood Museum (Wedgwood Museum Trust)
The Wedgwood Museum holds collections of ceramics (including 8000 historical pieces), fine art and manuscripts of international importance. The total collection is many tens of thousands of items. The Founder of the Wedgwood Company, Josiah Wedgwood I (1730-1795) was primarily a potter pioneer and philanthropist, whose interests embraced a wide range of topics from art and design, the improvement of transport by road and canal, cost accounting, factory management, social conditions for his workers, new production methods, entrepreneurial activities and international marketing. He succeeded in uniting art with industry and the collections reflect the brilliance of his pioneering and enduring achievements. He had a rare grasp of chemistry and physics coupled with a passion for experiments, many of which survive in the collection.
It is possible through the objects, pattern books and manuscripts to demonstrate the importance of the development of design history, as well as the history of domestic objects and the consumer society. The collection is significant in terms of world ceramics history.
The portraits and archives associated with the Wedgwood Family provide a unique and very important social record in their own right and, naturally, contain a considerable amount relating to the Darwin Family of Shrewsbury to whom the Wedgwoods were closely related.
The Ironbridge Gorge Museum (Ironbridge Gorge Museum Trust)
The Museum Trust manages 38 sites of which 30 are Listed or Scheduled and around 100 acres of the historic Ironbridge Gorge. The valley was designated a World Heritage Site in 1986. With particular reference to the present project, the sites include Coalport China Museum, Jackfield Tile Museum and the Museum of Iron. All the sites are important and play a part in the internationally significant story of the area and its iron and ceramic technology. The Library and Archive Collection provides a unique resource covering the whole range of concerns of the Trust, including 40,000 books, pamphlets and trade catalogues, 10,000 images etc. etc. The total collection of the museums is many tens of thousands of items.
The decorative arts collection of ceramics and metalwork is a major strength of the museum. The ceramics include the products of the Royal Salopian manufactory (Caughley Porcelain), John Rose and Co (Coalport China), Maw and Co and Craven Dunnill (decorative tiles and architectural ceramics. The art collections include original watercolours by Coalport artists and designers ranging from 1800 to 1920 and competition pieces by students of the Coalbrookdale Scientific and Literary Institute ranging from 1880-1914 etc. etc.
Darwin Country - a multidisciplinary approach
There were strong links between the collections and interests of the three main partner museums through the nature of the collections and the personalities associated with them - but each museum also has its own unique aspects.
We were keen to develop a website that did more than just make information about a large number of objects available. While this alone would play an important part in improving access to our collections, the web provides a way of doing things that could not be done through a museum display or a book.
We wanted to make it possible for users of the website to explore its contents in several different ways including interrogation through a search engine, 'interactive' maps and interdisciplinary 'themes'.
Themes
The website was originally conceived as being constructed from 'hand-crafted' pages. We wanted to provide 'gateways' to enable visitors to find out about people, places, industries, ideas and other 'topics' of the period but there were at least seven interdisciplinary themes that we wished to take into account in the development of the website:-
· Charles Darwin and his family in Shrewsbury and the Wedgwood connection (with further links to Erasmus Darwin and the Lunar Society).
· Ceramics (Wedgwood, Caughley, Coalport, Maw and Craven Dunnill tiles, Salopian Art Pottery, tobacco pipes) - technology, design, working conditions.
· Ironwork (industrial, domestic, decorative art) - technology, design, working conditions · Natural science (particularly geology, botany and zoology) and garden history.
· Fashions and social history (e.g. tea, the shell craze, flower gardens, the fern craze) with links to the industries and how fashions determined the style or decoration of ceramics, ironwork, costume and uniform.
· Landscape - changes in the rural and industrial landscape documented through the picture collections.
· Polymath personalities such as the tile maker George Maw and the ceramic artists of the Randall family who were not just associated with ceramics but also geology, botany, zoology, archaeology and other pursuits.
In the early stages of the project it was recognised that a large website of the type that we envisaged would have to be database-driven rather than 'hand-crafted'. This and the wish to make the website capable of expansion into other periods led to a reassessment of the concept of themes.
Audience research
The project was focussed on providing better access to key collections of the partners through the provision of images and information about them. There was no systematic audience research regarding the content of the site as each partner considered that the website constituted an extension of its key aims and objectives.
The Project Team
The main members of the project team have been:-
· Peter Boyd (Collections Manager, Shrewsbury Museums Service).
· Gill Mason and Andrew Cowdell (Project Assistants, Shrewsbury Museums Service).
· Ruth Denison (Deputy Director and Curator of Ceramics, Ironbridge Gorge Museum Trust).
· Rachel Iliffe (Ironbridge Gorge Museum Trust).
· Gaye Blake Roberts (Director, the Wedgwood Museum).
· Martin Chaplin (Wedgwood Museum).
· other members of staff from the partner museums who were involved from time to time during the project.
· James Grimster and Mark Brawn of Orangeleaf Systems Ltd, Shrewsbury (software engineers).
· David Houlston (specialist digital photographer).
Project management
Shrewsbury Museums Service was the lead partner for the project and agreed to coordinate the work. The project had to be completed by March 2001 so we had to be pragmatic about the project:-
· the funding was being provided to make images of objects and interpretation of them available to life-long learners - the more the better!
· we had chosen the web as the delivery mechanism - it has the capacity to reach a lot of people and if we made a mess of it - it would be very public and very embarrassing!
· while we had certain skills, we were not internet specialists so it was essential to get good advice and employ specialists to do some of the work to ensure the technical quality we wanted and ensure that it was achieved in time!
· we wanted to develop new skills such as digital photography but we could not afford the time to learn and achieve proficiency and reliably achieve the volume of work proposed in the time available!
· the partners were the experts on their collections (or knew people who were) - their time should be spent on providing ideas and good quality information - not worrying about the internet technology!
· we needed to keep in mind the fact that, in part, we have been given the grant to show other museums what could be done and how it could be done - it should be repeatable by others - hopefully, not show how it shouldn't be done!
It was decided that each partner museum would identify the objects that they wished to use to illustrate the agreed project topics and themes and provide the interpretative text.
Computer equipment and software was purchased to enable the images and information to be put together in Shrewsbury.
While we had originally been thinking in terms of 'hand-crafted' web pages, it became apparent that only a database-driven solution would enable us to develop a website that was almost infinitely flexible, editable and updateable.
Internet companies were investigated by conducting searches on the web and making an initial assessment of what each company did by their websites and the way in which they responded to enquiries.
We selected Orangeleaf Systems Ltd, a local company of software engineers, to work with us in developing an 'Internet Solution'. Orangeleaf Systems specialise in database-driven websites and writing software to control complex manufacturing processes. One member of the company had experience working with museum IT projects. It has to be said that we were remarkably fortunate to find that the most suitable company had recently moved to Shrewsbury.
The ability to discuss matters face to face whenever necessary and collect or deliver software or data discs within minutes made the process of development easier than it might otherwise have been - although a lot has been done by telephone and e-mail!
Initially, 'the Solution' was based on a database structure created by Peter Boyd in MS Access™. However, there was a steep learning curve both for Peter Boyd having to look at things from a different perspective if a database was to work as a web page generator and for Orangeleaf learning about museum and multi-disciplinary perspectives. It was necessary for both sides to look at things in different ways and work towards a common use of language as well as 'the solution'. It was a stimulating experience for both sides and Orangeleaf were willing to write the software to do things that they had not been asked to do before! Peter Boyd was keen to produce what he has called a 'knowledge net' structure as opposed to the 'hierarchical' structure of most websites. Orangeleaf Solutions developed the solution using PHP software.
For about half of the project, three types of work proceeded at once:-
· the creation and development of the input database (initially in MS Access™) to enable us to load the text, images, keywords, navigation etc. for the pages
· the creation of the output database using PHP that generates the pages dynamically from the above data with the addition of navigation bars and design elements to give the site a distinct look and hopefully make it look more hand-crafted that database-driven
· researching and creating content for the pages (images and text).
To provide the first test pages, the website was 'populated' with information originally created for exhibitions and publications of the partners and information held in the Shrewsbury Museums Service database (ShrewD). Much of this has had to be edited/re-written for the final page texts but it enabled us to create more or less 'real' information that accurately reflected the categories of information involved.
Initially, blocks of data were uploaded to the website by Orangeleaf. However, from October 2000 we were able to create data and edit the database 'on the fly' through an interface designed by Orangeleaf.
The on-the-fly input and editing of the website worked well and is invaluable in allowing immediate correction of errors, gradual addition of content or making small numbers of 'hidden' pages live. However, it is much slower when dealing with large numbers of new 'pages', so we returned to the process of preparing blocks of content in MS Access and uploading it in one go when dealing with hundreds of new 'Objects' (information associated with images of museum items).
Digitisation of materials
Most of the digitisation has been done by a professional photographer, David Houlston, using the most up-to-date digital cameras and flat-bed scanners. The digitisation has been done at high resolution (about 20MB) for archiving with optimisation at three different sizes/resolutions for use on the website.
We settled on the following recommended maximum sizes for most images:-
Thumbnails 5Kb (150 x 150 pixels)
Medium 20Kb (500 x 500 pixels)
Large 50Kb (2000 x 2000 pixels)
However, in practice, a few images were found to contain so much detail that the 'medium' and 'large' images had to be larger file sizes to display well without loss in image quality. Images have been optimised and otherwise manipulated using mainly Adobe Photoshop™ but Macromedia Fireworks™, Ulead Photoimpact™ and Microsoft Photo Editor™ have also been used.
The solution provided by Orangeleaf Systems has enabled images to be uploaded to the website one at a time or hundreds of images may be uploaded at a time using CuteFTP™.
Web-based GIS
Shrewsbury Museums Service already used a Geographical Information System (MapInfo Professional™) in association with its MS Access™-based database known as 'ShrewD'. Web-based GIS was a development of this. One of the ways into the website was intended to be through interactive map-based web pages. Web-based GIS can be a much more expensive technology than desktop GIS. Peter Boyd wrote a paper examining the issues for the Association for Geographic Information Conference in September 2000 (Boyd, 2000).
Copyright licensing costs on map data can be prohibitive but a relatively simple (limited) GIS software solution (web.Publisher™) and digitised map data (Europa Technologies) was purchased at a special rate with an agreement to allow us to use a certain number of maps (with our own superimposed data) on the web without charge. A small number of interactive maps have been produced, linking to pages already created but it is the intention to further develop this feature with more detailed maps that have been digitised for the purpose.
During the course of the project, the Ordnance Survey has slightly relaxed the use of their map data on the web for Local Government users but their rules are still more restrictive than one would wish for educational purposes on the web.
Content identification
The content for the site was defined in part by its title, aims and interpretative themes that were identified in the application. The partner museums have selected the items that they wished to use to illustrate key topics.
Learning resource creation
The information on Darwin Country is based on the objects within our collections and linking themes that place them in a natural, historical or social context. We wanted a visitor to the site to explore connected topics and make 'discoveries'. While the illustration of topics through our collections was the primary goal, we also wished to place these in a context and include 'objects' outside the museums including buildings and gardens of the period. Much of the latter material 'outside the museums' will be developed later.
The main content of the website is created as 'Categories', 'Objects', 'Events' and 'Images'. Interactive maps are essentially images with hotspots that relate to pages ('Categories' or 'Objects') that are opened when clicked upon.
Therefore, the names of places such as Shrewsbury, people such as Darwin, plants such as Passion Flower, animals such as horses, objects such as Coalport Porcelain or topics such as Pteridomania are all 'categories' with their own pages and related or associated 'objects'. Each 'category', 'object' or 'event' may be associated with up to seven 'categories' plus 'keywords' that are allocated for each. In this way, different associated categories may replicate the concept of 'themes' but broaden it.
A 'knowledge-net' structure is created, providing access to information via a large number of different routes rather than the single defined route of a hierarchical-structured website.
Searches are done on the basis of category or object names and on keywords. Images may be searched, in addition, by viewing the Image Gallery where the images are displayed in alphabetical order.
A 'category' such as 'Coalport Porcelain' can have up to three images within the text of the page and 'associated objects' provide thumbnails of museum objects (with brief description) that relate to the page - these could and will be hundreds of objects in some cases. Clicking on the thumbnail opens a new page with a larger image of the object and the full description. Clicking on this image opens a new page with an even larger image.
'Events' provide the data for timelines that are generated on pages that have been actively associated with those pages (e.g. Darwin events associated with Darwin pages) or automatically through a start and end time when events are associated with a linked life-time of a person or period.
Intellectual Property Rights
Most of the items in the museums belong to them or permission to depict them on the web could be gained from the owners where necessary. The main issue to arise has been the situation with regard to commercial interests such as the Coalport pattern books held by the Wedgwood Museum. These still have commercial significance as a source for patterns so that a decision was made to limit illustration of patterns from the pattern books to those already shown on Coalport pieces depicted on the website.
Service delivery
The Darwin Country website consists of entirely dynamically generated pages. The content of the site is stored in a mySQL database running on a LINUX machine with Apache as the web server. MySQL provides a fast 'connect and select' SQL server database at a lower installation cost than other comparable industry leading database engines.
The pages are created using queries on the database server using the server side language PHP, using just under 20,000 lines of code. PHP stands for Personal Home Page Hypertext Preprocessor and is functionally similar to Microsoft's Active Server Pages (ASP). Some graphical interface work is performed using Perl 5™.
Unlike ASP, PHP code is free (open source) and also does not contain elements that are hidden from the developer. This means that anyone who can use PHP could pick up from where Orangeleaf Systems left off if, heaven forbid, they 'went bust'. This was part of the reason of choosing this approach as we did not wish to be left with a system that was inoperable at some point in the future by being tied to a particular piece of software that became redundant.
Technical standards
Orangeleaf Systems were asked to produce a solution that conformed to the technical standards identified as Best Practice for the New Opportunities Fund. In addition, we created our own standards regards image sizes and added features for usability such as the ability to increase the text size on a page with a single mouse click for those with visual impairment.
Publicity and promotion
Static web pages providing information about the project were created using Dreamweaver and uploaded to the web in May 2000 at http://www.darwincountry.org . These enabled search engine 'spiders' to find us at an early stage so that by the time we made the first stages of the database-driven site live in August 2000 we were already getting 'hits' and updated by 'spiders'.
Also in May, we had created static pages for project partners at http://www.darwincountry.com with a Shrewsbury Museums Service site and links to sites of the partners. The Shrewsbury Museums Service site had a link to the educational site and started to be well used. This also became database-driven in August 2000.
Other publicity and PR was carried out by Peter Boyd writing short articles for local society newsletters, a paper for the Association for Geographic Information (Boyd, 2000) and presentations at the MDA conference (this paper), the AGI international conference in London, also AGI Cymru in Cardiff and presentations to postgraduate students of the Ironbridge Institute and at an IT Meeting for the West Midlands Regional Museums Council.
After the database-driven site went live in August 2000, the site was submitted to search engines and became 'spidered' on a regular basis as new pages were made live. It was also submitted to various local websites for links to be provided.
The site was submitted for inclusion on the National Grid for Learning portal and accepted for the new portal that was launched in January 2001. This increased the traffic on the site and the site has subsequently been placed, with other IT Challenge Fund Projects on the People's Network portal, the 24 Hour Museum and other museum-related sites. A touch-screen in-gallery version of Darwin Country has also been developed that is undergoing evaluation in Shrewsbury Museum and Art Gallery.
There has been no formal launch of Darwin Country.
Monitoring and evaluation
Use of the site is monitored using a statistics package set up by Orangeleaf Systems. The latest version has been monitoring the site since 8th December 2000. This records 'number of page impressions' (hits to a page), number of unique visitors and other information such as 'most visited pages'. The package does not measure hits to the administration part of the site that is used in inputting data, so the 'page impressions' logged represent other users.
In the period January-August 2001 (8 full months), the website achieved about 50,000 'page impressions' and about 5000 'unique visitors' from all over the world. This is considered to be a pleasing start but, as information on usage of other museum websites has not been readily available, it has been difficult to compare our 'performance' with other sites.
The top 20 countries accessing Darwin Country over the 8 month period are the United Kingdom, United States, Canada, Australia, Italy, New Zealand, Netherlands, Denmark, Spain, Brazil, Japan, Ukraine, France, Estonia, Poland, Switzerland, Russian Federation, Greece, Belgium and Columbia.
A full analysis of the more detailed data available has not been carried out but a daily check on the way in which people are reaching the site is intriguing. Many people reach it from the National Grid for Learning portal, The People's Network, the 24 Hour Museum and the mda Virtual Museum website. However, many visitors are finding it via a search engine such as Google.
Sustainability
The Darwin Country website has been designed to be capable of indefinite expansion. This expansion can be at a slow rate with the addition of a few tens of images with associated information each year or at a faster rate of hundreds or thousands of images as funding allows.
Preservation strategy
Shrewsbury Museums Service has a commitment to Darwin Country and its future development with our existing partners and new partners to allow extension of the coverage of the site from the 18th and19th centuries to other periods such as the Romano-British period of the Roman town of Viroconium at Wroxeter and its hinterland. In this way the site will continue to be a 'living', growing thing.
Regarding preservation of the raw materials of the website, the images are held on the website database, on desktop PC, on CD and tape-streamer. Images will be migrated to new storage media as it becomes advisable. The Darwin Country website is also available as a touch-screen version for in-gallery use and possible use at other venues such as local libraries. At present, this off-line version is updated at intervals with the data and images loaded to its hard-disc. This therefore acts as another form of backup.
Workplan
The project has run approximately to plan and we were actually ahead of schedule for several months in terms of material live on the web, until operational difficulties outwith the project caused a delay in the later stages of digitisation.
The physical process of accessing and preparing large numbers of items for digitisation and ensuring that the associated documentation was accurate to ensure a smooth transfer of information to the website database were found to be the parts of the project taking longer than expected.
The digitisation itself and the subsequent processing for the web, carried out by a professional, is relatively straightforward. We were achieving photography of over 200 images a day for straightforward three-dimensional objects. However, getting 200 objects ready to allow a 'conveyor belt' type process in front of the photographer and the associated electronic and paper documentation before, during and after the digitisation is time-consuming and open to confusion in ways that one did not foresee to start with. We got much better at it as time went on and we honed our procedures!
Unforeseen difficulties
Various difficulties - that were unforeseen when the application for grant-aid was made - were experienced by the partners.
In particular, Shrewsbury Museums Service experienced difficulties due to undergoing the 'Best Value' process at the same time as managing this project and dealing with the repercussions arising from the unexpected disposal of one of its buildings. The Wedgwood Museum experienced difficulties due to redevelopment of the museum and visitor centre with its collections becoming less accessible during that period and Ironbridge Gorge Museums suffered two periods of severe flooding from the River Severn.
An outbreak of influenza affected several key people in February 2001 (including the photographer) in the final stages of the IT Challenge funded project due to be completed by March.
In spite of these problems the project was completed on time (more-or-less) because we were ahead of schedule before most of them impacted. However, it is worth recording the fact that a risk analysis conducted at the beginning of the project could not have foreseen some of the problems encountered. If you plan such a project - be prepared for the unforeseen!
Budget
The project was achieved within budget although there was some variation within the original budget to take account of the change from hand-crafted to database-driven site.
If we were starting a similar project from first principles, an additional member or members of staff with specialist knowledge of each subject area of the project would be beneficial for assistance in content creation and managing the objects being digitised (i.e. traditional curatorial knowledge rather than technical knowledge).
In continuing the development of Darwin Country, it will be the knowledge of the partner's curatorial staff that will contribute value to the images.
Websites provide a modern mode of access to museum objects but the interest of the objects themselves and the accompanying interpretation is as important as it is in the traditional display.
Conclusion
The Darwin Country project has created a website that already has considerable value as a resource for life-long learning with over 3000 pages and images available. About 3000 more images will be added during 2001-2002 with grant-aid from the West Midlands Regional Museum Council. Development will be continued after that at a rate of growth determined by the level of funding available. The initial project would not have been possible without the IT Challenge Fund and the high percentage funding that it provided.
Reference
Boyd, P.D.A. 2000 Heritage UK plc - a portal to space and time through web GIS. In 'Geographic Information supporting UK plc'. Proceedings of Association for Geographic Information Conference 2000, W3.5. (published in electronic form on CD). Web version available on this website
Darwin Country website at http://www.darwincountry.org
Captions for figures (url for appropriate web page provided instead of figures where possible)
Fig 1 Screen-shot of database-driven Home Page of Darwin Country website http://www.darwincountry.org
Fig 2 Screen-shot of part of a database-driven page of Darwin Country showing text with images about Charles Darwin reached via an initial trail of 'places', the trail of pages followed, links to 'top' categories and 'find', links to categories related to page displayed, and timeline. The same page could have been reached from 'people' or via numerous other starting points or trails. http://www.darwincountry.org/category.php3?trail=2747
Fig 3 Screen-shot of part of database-driven page of Darwin Country showing example of an interactive map that provides another means of accessing pages about particular 'places'. http://www.darwincountry.org/category.php3?trail=2860
Fig 4 Screen-shot of part of database-driven page of Darwin Country showing a 'topic' (Pteridomania) linking to other related 'topics', 'plants' and timeline. Lower down on such a page, thumbnail images of related museum objects link to pages about those objects (e.g. ferny Coalbrookdale cast-iron seats). http://www.darwincountry.org/category.php3?trail=1258
Fig 5 Screen-shot of part of database-driven 'Images' gallery where thumbnails of all the objects illustrated on Darwin Country provide access to larger images and information about the objects. http://www.darwincountry.org/gallery.php3?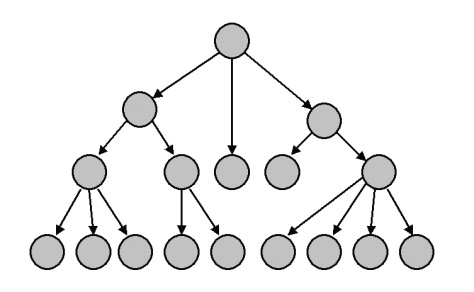 Fig 6 (above) Conceptual diagram showing 'hierarchical' structure of most websites whether 'hand-crafted' or database-driven. Each circle represents a page or link so that navigating a website from a link on the Home Page (at the top), the routes are pre-defined by the designer of the website. The visitor can only reach a particular page (at the bottom) via one particular route.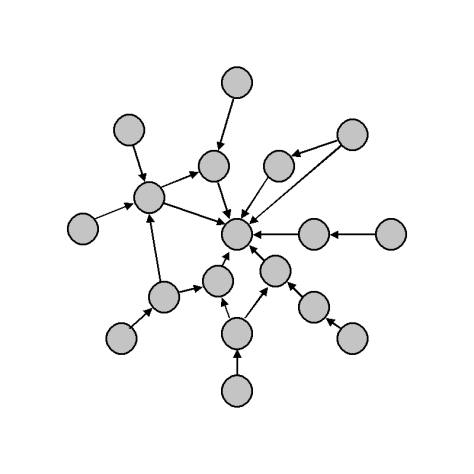 Fig 7 (above) Conceptual diagram showing 'knowledge-net' structure of the Darwin Country database-driven website. Each circle represents a page or link and navigating the website from a number of links on the Home Page (around the edge), the visitor can follow a wide range of different routes, exploring the site but 'theoretically' still arrive at the same particular page (in the centre). In practice, the website provides thousands of pages and possible routes which increase as the website grows.
Fig 8 Screen-shot of Home Page of touch-screen version of Darwin Country for in-gallery use. This uses the same database of information as the web-based version. http://touchscreen.darwincountry.org
Museum Documentation Association (MDA)
---
Peter D. A. Boyd.
Copyright © 2002 Peter D. A. Boyd. All rights reserved.
Revised: May 1st, 2002.