Welcome to peterboyd.com
Peter D. A. Boyd
Humphrey J. Welch
1908-2001
Peter D. A. Boyd
Web version of
BOYD, P.D.A. 2002 (forthcoming). Humphrey J. Welch 1908-2001. Spring Conifer Quarterley, American Conifer Society Publication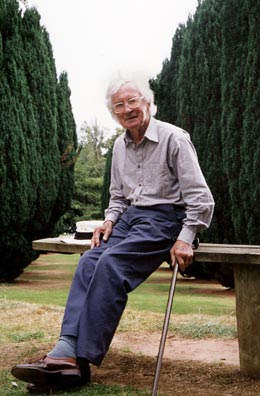 Humphrey Welch at Bicton Botanical Gardens, Devon 17th August 2001
(photo: Emma Grant)
Humphrey Welch, author of several books on Conifers and well-known to many members of the American Conifer Society, died at his home at Uplyme in Devon, England on Thursday 29th November 2001. He had celebrated his 93rd Birthday the previous week. He was remarkably active to the end and passed away in his sleep.
The funeral took place at Uplyme, near Lyme Regis on Friday 7th December 2001. Humphrey was buried in the village church cemetery that is planted with conifers and from which the mature trees of a 19th century pinetum on the other side of the valley may be seen. Cones were deposited with him, in his grave, by his widow Elaine and myself.
The funeral and wake - attended by family including his daughter Monica and grandchildren and friends was a celebration of a devout and full life. No doubt, Humphrey - with his 'wicked' sense of humour - enjoyed it!
As I was already married when my mother and Humphrey wed and he had grown-up children, I always knew him as Humphrey rather than my stepfather. They first met at a Conifer Conference in Edinburgh in about 1970 and got to know each other better when he visited my mother's garden to see my collection of conifers! They were married on 24th June 1972. Conifers certainly brought them together!
Humphrey was born on 15th November 1908 in Teignmouth, Devon and always loved that county. However, he left it to attend school in Bristol and for the early years of his working life he was a civil and municipal engineer, working in several different parts of England including the North Sea coastal town of Lowestoft (which suffered repeated bombing) during the 2nd World War.
In 1959 (at the age of 51) he retired from local government and started a nursery. His first nursery involved grafting Magnolias and Cherries but, later, his grafting skills became very important in grafting Pinus, Abies and other conifers. At some stage, whether before or after his 'retirement' is unclear, The Institution of Municipal Engineers awarded Humphrey a medal for a paper entitled 'The Establishment and Operation of Tree Nurseries'.
He established the Wansdyke Nursery and Pygmy Pinetum at Devizes, Wiltshire and received several prize medals at Royal Horticultural Society Shows for displays of conifers including a Bronze Medal on 4th February 1964 for an 'Exhibit of Dwarf and Slow-Growing Conifers', a Silver Medal on 7th February 1967 for 'An Exhibit of Dwarf Conifers' and a Gold Medal on 28th October 1975 for 'Dwarf Pinus Cultivars'.
Humphrey published his first book on conifers in 1966. His Dwarf Conifers: A complete guide was the first book to be published on dwarf conifers since the 2nd Edition of Murray Hornibrook's Dwarf and Slow-Growing Conifers in 1938. A 2nd edition of Humphrey's book was published in 1968.
Although he had 'retired' from engineering, Humphrey continued to use his engineering ingenuity in the development of mist propagation equipment and techniques which became so important in the commercial production of conifers. In about 1961 he wrote The Mist Propagator's Manual (Humex Publications). He developed his own system 'The Water Witch' which, initially, he manufactured and marketed himself. In 1970 his Mist Propagation and Automatic Watering (Faber and Faber. London) was published with a revised edition in 1973.
While continuing to develop the Wansdyke Nursery, Humphrey travelled all over the world visiting Botanical Gardens and private collections, researching for his books and collecting conifers. By 1979 in which his Manual of Dwarf Conifers was published (Threophrastus, New York) he had more than 1000 different cultivars - by far the largest collection anywhere at that time. His collection had botanical status and was listed in the International Directory of Botanical Gardens (IABG).
Over the years he presented collections of conifers to several botanical gardens including Bicton Park, Devon in 1976 and Saville Gardens, Windsor.
However, in about 1980 (aged about 72 years) he sold the Wansdyke Nursery and set up Pine Cottage Arboretum at Morcombelake, Dorset where he continued to propagate and sell conifers. A price list of 1983 shows that he offered a 'grafted-to-order' service for the rarer conifer cultivars. He also continued writing - revising and updating the unpublished thesis The Cultivated Hemlocks by John C. Swartley - which he considered a very important work (published by Timber Press in 1984 with Dr J. R. Dudley).
Humphrey and Elaine returned to Devon (first south then north), where Humphrey wrote The Conifer Manual. Volume I. (1991) published by Kluwer Academic Publishers, Dordrecht which represented a full revision and up-dating of Manual of Cultivated Conifers in the Cold and Warm-Temperate Zone by P. den Ouden and Dr B. K. Boom (1965) and Humphey's own Manual of Dwarf Conifers (1979). Volume 1 covered Abies to Phyllocladus.
Unfortunately, Volume 2 (which would have covered Picea to Widdringtonia) was never completed because he wanted to complete his World Checklist of Conifers first. He started this World Conifer Data Pool project in 1965 and carried on alone until shortly before its completion. It was published in 1993 (Landsman's Bookshop Ltd). Shortly afterwards he decided that, at 86 he was getting too old to carry on at the same rate as he had done and passed on the baton (and his extensive library) to others. Humphrey and Elaine moved from Combe Martin to Uplyme.
Humphrey had a long association with The American Conifer Society which accorded him an Honorary Life Membership 'for his outstanding contribution to the World of Conifers'.
American Conifer Society website
---
Peter D. A. Boyd.
Copyright © 2002 Peter D. A. Boyd. All rights reserved.
Revised: February 25th, 2002.