Peter D. A. Boyd
Peter D. A. Boyd
Web version of
BOYD, P.D.A. 2009. 'The Young Charles Darwin - student, naturalist and gardener'. In Proceedings of International Conference Bioscience and Society: Biodiversity - Diversity of Living Systems. Ljubljana, Slovenia / Mednarodni posvet Biološka Znanost in Družba: Biodiverziteta – Raznolikost Živih Sistemov. 1st & 2nd October 2009, Ljubljana, Slovenia. [with colour versions of images and some extra images with captions that were not included in the original publication]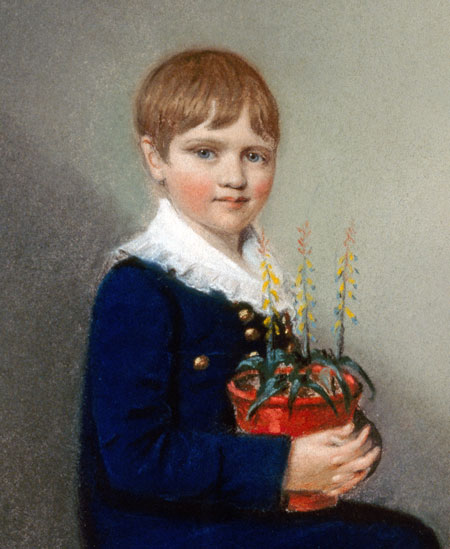 Charles Darwin (aged about 6 years)
[©English Heritage Photo Library By kind permission of Darwin Heirlooms Trust].
Abstract
Charles Darwin was one of the most important scientists who ever lived. He was born in 1809 (200 years ago) in Shrewsbury, Shropshire, England. He was fortunate to have a wealthy father who was a doctor and be part of an intelligent and educated family. He lived in a large house called 'The Mount' with servants and a large garden, on the edge of the town and open countryside. He had developed a strong interest in natural history before he attended his first school at the age of eight, having been taught previously by his mother, brother and sisters. Many poor children of his age never had the opportunity to attend school. However, he was unfortunate because his mother died soon after he started at day school. He was sent to Shrewsbury Grammar School as a boarder for seven years where he studied Latin and Greek but little that interested him. Science was not taught in schools at that time but Charles developed his knowledge by collecting natural history specimens and helping his older brother with Chemistry experiments at home. He was not an exceptional child at school but his father taught him about observation, recording and analysis of information in the garden and surgery, assisting with his patients and diagnosing illnesses. This prepared him for Edinburgh University where he studied to become a doctor but he 'dropped out' because he did not like operations or dissections and was sent to Cambridge University to train for The Church (to become a priest). However, both in Edinburgh and Cambridge he disliked lectures, preferring to read about the subjects in books and spent most of his time having a good time with his friends and collecting beetles. However, he worked hard enough to pass examinations and achieved a good Bachelor of Arts Degree as a first step to becoming a clergyman. That career path was cut short because he had impressed influential professors and lecturers who admired his scientific prowess at a time when the study of natural history (studying the wonders of God's Creation) was considered an appropriate pastime for a clergyman! He was recommended for the role of ship's naturalist on the survey ship 'The Beagle' because of his natural history skills and because he was 'a gentleman' of the right social background to be the captain's companion. His self-motivated study of plants, animals and rocks commenced as a child in Shrewsbury and encouraged at last by perceptive teachers, propelled him into a new direction. However, his five year voyage on The Beagle around the world and his subsequent life of research would have been impossible if his father had not supported him financially and later, when he married, invested a large sum of money, the income from which supported his research, wife and family. He had been raised in a one-parent family and did not do well at school where his interests were dismissed as a waste of time. However, he had the support of his family and eventually, at university, found the support of teachers who recognised his potential.
Introduction
Charles Darwin was born in Shrewsbury, Shropshire, England on 12th February 1809 during the Napoleonic Wars with France. His birthplace was a house called 'The Mount' built by his father, Robert Darwin, in an elevated position overlooking the town. Charles spent his childhood in Shrewsbury but left it to attend university from 1825-1831 and for his voyage on 'The Beagle' 1831-1836. However, Shrewsbury remained his home and it was Shrewsbury and his family to which he returned between terms from university and after his great voyage. Although he spent most of the rest of his life living in London and Kent, he continued to visit Shrewsbury until his father's death in 1848 and later.
Shrewsbury
Shrewsbury is the County Town of Shropshire. Shropshire is England's largest inland county with Wales bordering it on its west side. The historic town centre of Shrewsbury is within a loop of the River Severn. It is well known for its historic buildings including Norman castle, medieval abbey, timber-framed tudor buildings, fine churches and museums. The remains of the Roman town of Viroconium (Uriconium) at Wroxeter and the Ironbridge Gorge ('Birthplace of the Industrial Revolution') are nearby.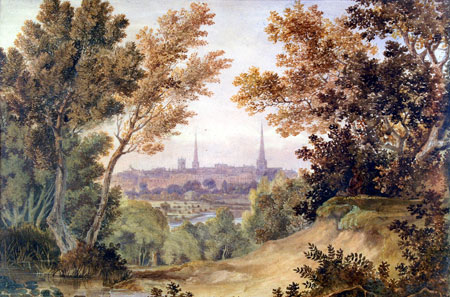 Shrewsbury viewed from Sutton. 19th century. Watercolour by J. Bather (Shrewsbury Museum & Art Gallery)
Shrewsbury is surrounded by beautiful countryside of hills, valleys, rivers, lakes, moors and mountains with diverse geology and natural habitats. The coast of Wales is not far away. This was the countryside in which Charles Darwin was brought up and which influenced his lifelong interest in natural history.
The Darwin Family in Shrewsbury
Charles Darwin was born into a family of intelligent, influential and shrewd people. His father was Dr Robert Darwin. In 1786, Robert's father, Erasmus Darwin, took him to Shrewsbury from Derby and left him, with Ł20 in his pocket, to set up a medical practice in Shrewsbury. From that start as a young doctor of 20, he was to become one of the richest and most influential men in Shropshire and the West Midlands.
In 1796, Robert married Susannah Wedgwood, first child of Josiah Wedgwood I, the pottery manufacturer of Etruria near Stoke, Staffordshire. The marriage made the up-and-coming doctor more secure financially and led to an increase in the number of 'useful contacts' as a physician and entrepreneur.
In about 1799, he built the house called 'The Mount' on high ground at Frankwell, overlooking the River Severn and Shrewsbury. The Mount was a large, plain, square, red-brick house, 'of which the most attractive feature was the pretty green-house, opening out of the morning room'. Dr Darwin loved his garden, planting it with a wide variety of trees, shrubs and other plants. He and other members of the family maintained a 'perennial garden diary' recording details of flowerings and fruiting in the kitchen garden, pleasure gardens and glasshouses of The Mount. The doctor travelled about his lucrative practice, covering more than three counties, in a yellow chaise (a type of horse-drawn carriage). He was a physician to rich and poor alike and much respected. He was also a shrewd businessman and part of his wealth came from his sidelines - property speculation and lending money to the landed gentry.
Dr Robert Darwin (1766-1848) and his wife Susannah (1765-1817) had 6 children: